Bead Necklace~Maw Sit-Sit
SOLD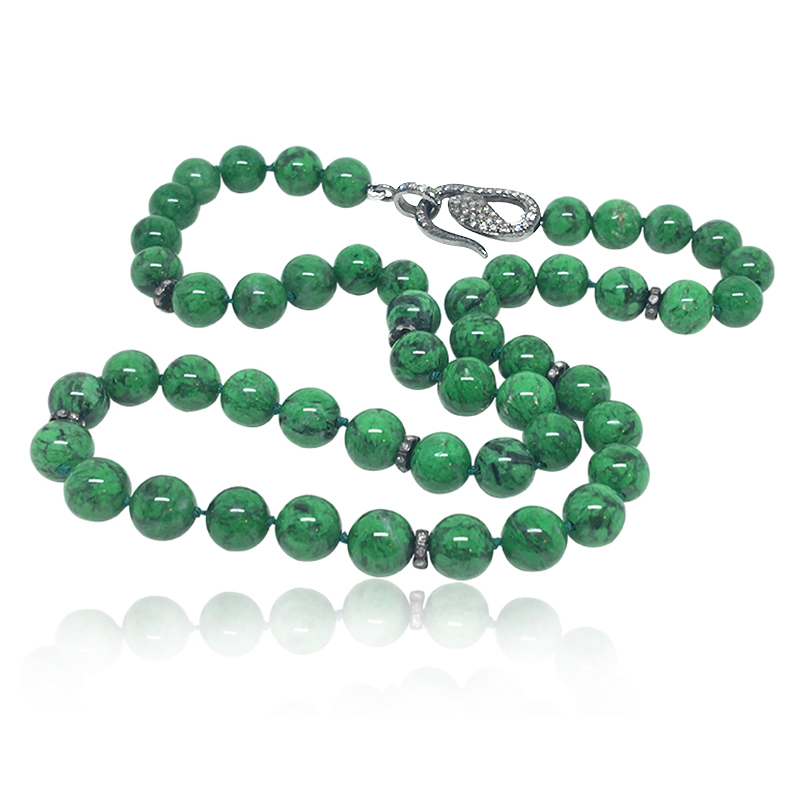 On Sale
Sale!
%
Off
63
Save $1,700
1700$
63%
1700
$
This Maw Sit-Sit bead necklace, a rare and captivating piece, is an embodiment of both exquisite beauty and deep symbolic meaning. The necklace features vibrant green Maw Sit-Sit beads, each measuring 8.5 mm, sourced exclusively from Maw Sit-Sit, Burma. The striking green hue of these beads, achieved through the presence of chromium — similar to that in emeralds and rubies — radiates an intense and lively energy.
Intricately strung with diamond rondelles, this 19-inch necklace is further accentuated by a unique antiqued, blackened silver clasp designed in a snake motif. The snake, symbolizing everlasting life and renewal through its cyclical shedding of skin, adds a layer of profound symbolism to the piece.
The clasp's design stands out, with the sparkling diamonds set against the darkened silver, creating a striking contrast that mirrors the luster and depth of the Maw Sit-Sit beads.
Wearing this necklace is not just a style statement but also a nurturing experience for the soul. Maw Sit-Sit is renowned for its uplifting and positive energy, believed to bring joy, hope, and good fortune. Its bright green tones resonate with the Heart Chakra, encouraging feelings of love, compassion, joy, and inner peace. Ideal for trying days, this necklace is a source of strength and rejuvenation.
The combination of Maw Sit-Sit's enchanting energy and the meaningful snake motif makes this necklace not just a jewel but a talisman, perfect for anyone seeking positivity, motivation, and a touch of timeless elegance.
THE ELEMENTS
Vibrant green Maw Sit Sit bead necklace, 19″ long, consisting of  8.5 mm Maw Sit Sit smooth round bead strung on green, knotted silk cord with 7 3-mm blackened silver & diamond rondells, topped with a blackenedsilver & diamond snake motif clasp.