Druzy Platinum Agate Pendant with South Sea Pearl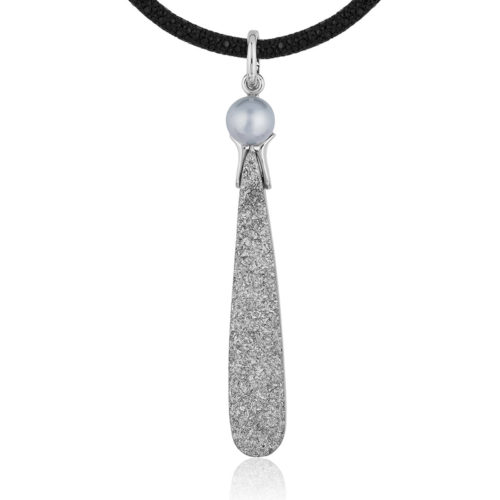 Druzy Agate Pendant with Platinum plating set with a 9.8 mm Silver South Sea Pearl in 18 karat white gold; bale is clip-on style and pendant comes with an 18-inch, 5-mm black shagreen cord.
The bail was designed so you can wear this pendant on the shagreen cord and it can fit inbetween most pearl or bead necklaces.
In the gem world, "druzy" refers to a coating of small, fine crystals upon another  mineral's surface.  Here,  tiny quartz crystals grew on the surface of an agate.  We coated the druzy surface with platinum to bring up the reflective "silvery" sheen.
This is a naturally-occurring druzy quartz - in side view, each pendant has a unique irregular form showing it's natural origin. The back is flat so the pendant will lay flat when worn.
The shagreen cord is made from sting-ray leather which is very durable with an interesting sheen.  
Starting at $2,725.00
Available by special order.