Cynthia Renée's exquisite design and engineering can turn your classic pair of pearls into Progressive Pearls.
The result? Stunning transformations for any occasion.
Begin with a Pair of Pearls…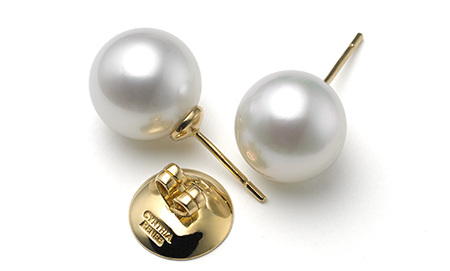 The Pearl Stud is the foundation of our Progressive Pearl™ jewelry wardrobing system, with a removable 18-karat yellow gold post that can be interchanged with our Diamond Drop Attachments for wear as drops and/or worn with our other pearl earring Enhancers. This means you can wear each pearl four ways: as a luminous stud earring; with an Adaptor as a Pearl Drop; embellished with one of our Enhancers and as a foundation to support earring Drops.
Our Progressive Pearls™ are 12-mm or larger to accommodate the interchangeable mechanisms. Each pearl stud's large parabolic friction back is like a "wonder bra" for your ears, distributing the weight of the earring more evenly to prevent tipping.
What if you already have pearl studs?  We can make your 12-mm or larger pearls "Progressive" so you can wear them as studs and drops.
 Then Expand your Possibilities…
B.Y.O.J.
Bring Your Own Jewelry for a consultation with Cynthia.
Gain fresh perspectives on Jewels, Creativity and the Sparkling Life.