The Bubble Ring
Transform Birthstones into Heirlooms
Discover the art of transforming birthstones into a bespoke legacy jewel, a unique fusion of your family lineage, personal creativity, and elegant style. Here, we unfold the tale of crafting the Bubble Ring, a triumphant unification of grandmothers and granddaughter represented by diamonds and pearl in a scrumptious heirloom jewel.   
SERENGETI RING
Blue Pearl Moment
Have you had those fleeting moments in life when you experienced an unusually profound insight, a feeling of connectedness or intimacy? It's as if God pulls a curtain back, showing us the deeper workings of life. Then, it's over, and we're back to everyday life once more. I call these luminescent moments "Blue Pearl Moments." With my clients, I create custom jewels to commemorate their Blue Pearl Moments.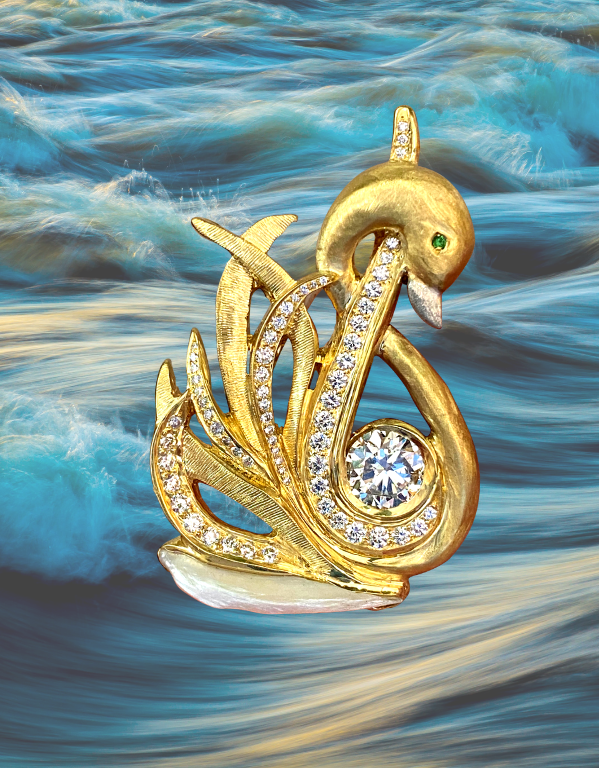 What to Expect in Creating your Custom Jewel
Truly Bespoke!
A lot of people have hesitancy about the custom design process. Once a client wears their first custom jewel, they most often go on to many more. It's not that scary and I work with projects of all levels. Below, first-time custom jewelry design client Liana let me share the story of creating her jewel.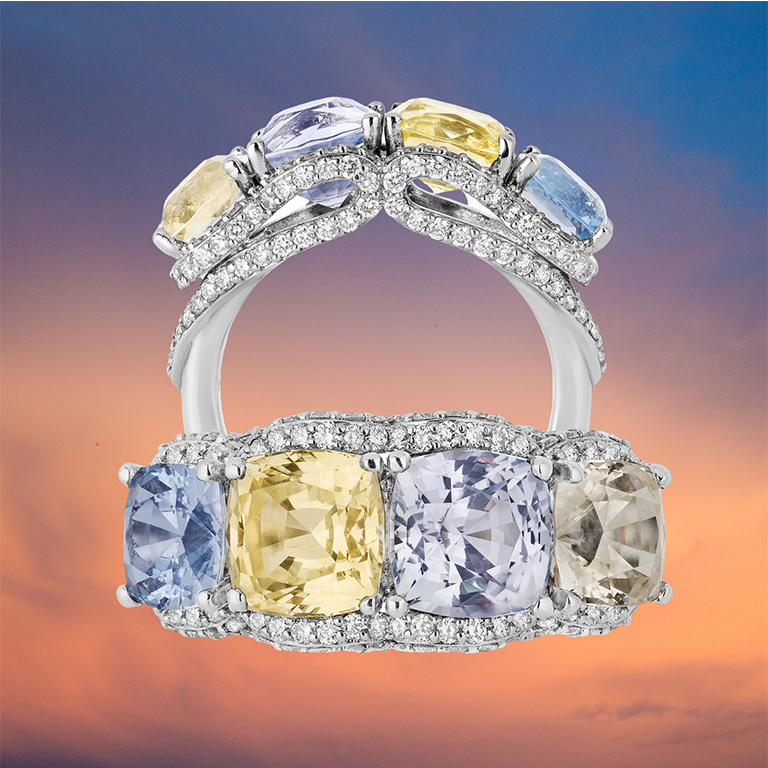 Transforming Collected Bits and Bobs into a Significant Jewel
My friend Lisa was in from Amsterdam with bags of gems and jewels she had collected over years of travel.  Lisa's jewel stash was large and varied, the only common denominator amongst the pieces was her good eye and sense of the possible.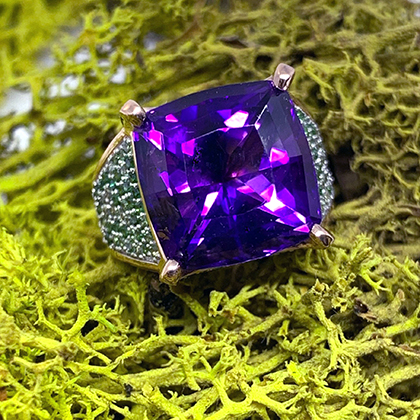 Dreaming in Color
Painterly hues bleeding into one another
You can buy a finished pie at the bakery, just buy a pie crust or make your own.  Some even create their own recipes.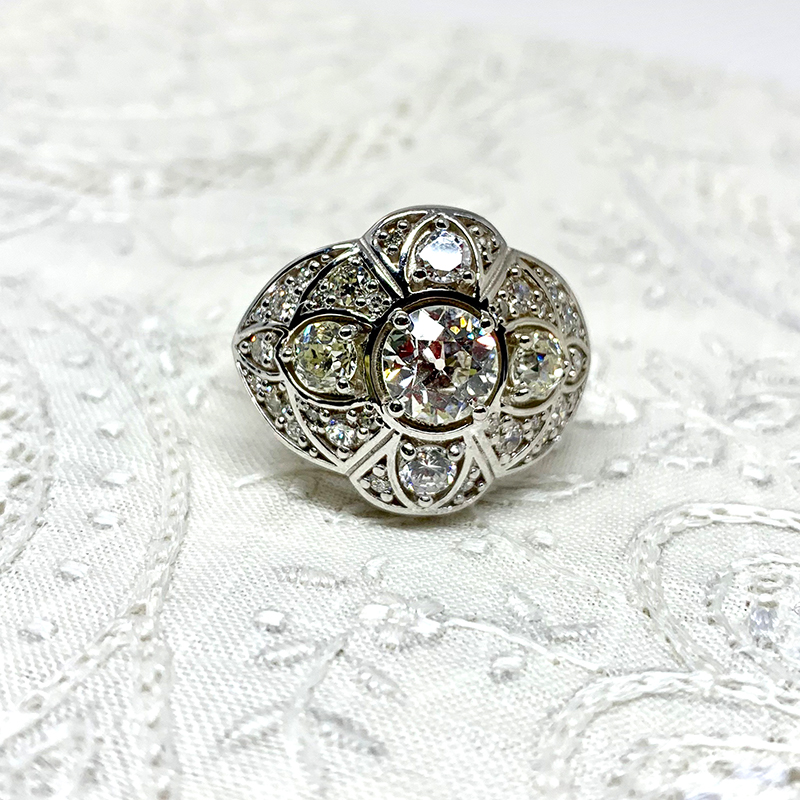 Bring Your Own Jewels
B.Y.O.J.
We can recreate starting with your own jewelry – you know… the jewelry that's languishing in your drawer.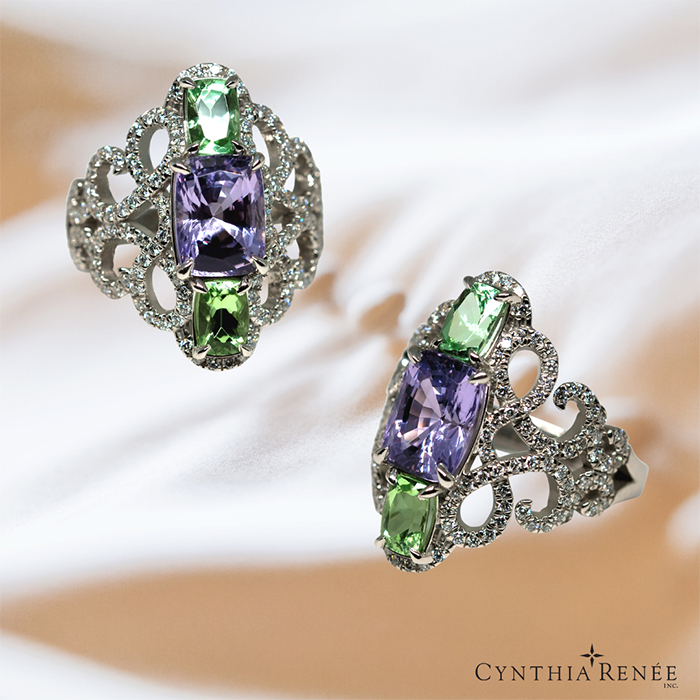 What Should We Do With Them?
Lavender Spinel & Minty Green Garnets
"Oh, I like that lavender and green…," Laura replied to my text showing her several pairing of gems for three-stone rings. "What should we do with them?" That's always the next question, isn't it? The unset gems move you, but what next? Here is how Laura and I got her ring out of her mind's eye and on her finger.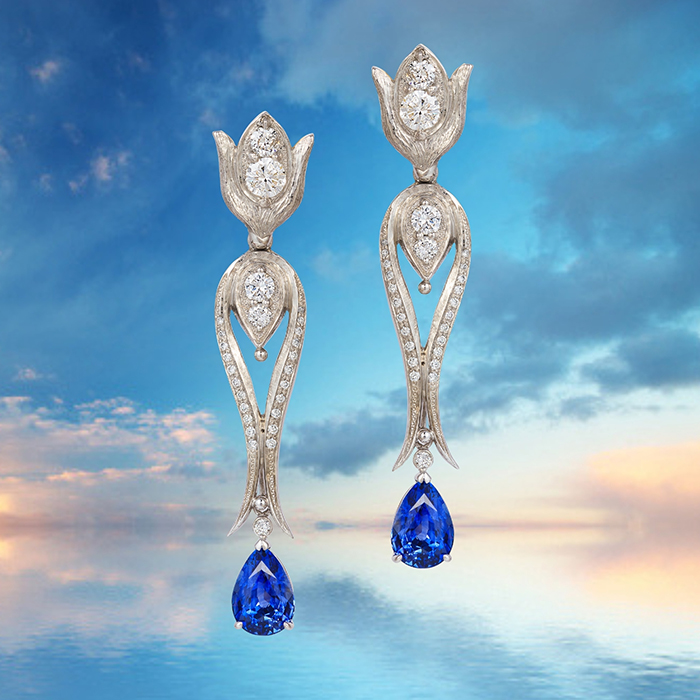 Boldly Blue
One Pair of Sapphires, 32 Looks
Laura moved quickly on a pair of "sweet" blue Sri Lankan sapphires, claiming them as hers just before I sealed the box returning them to my dealer in Thailand. I flew to Laura's home, under an enchanted blue sky, so we could visit and discuss how to set her new sapphires in custom jewelry earrings.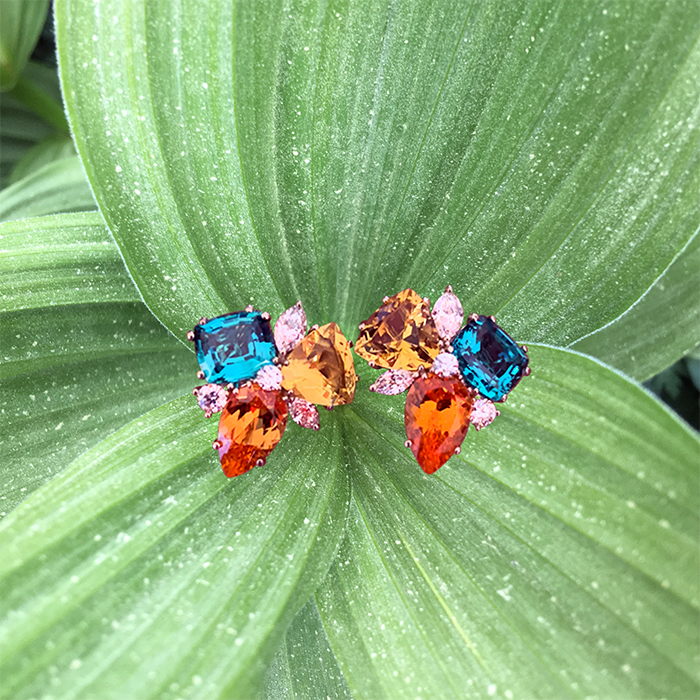 THIRD ELEMENT EARRINGS
Law of Odds
Going from a good design to a great one isn't a matter of luck. I met with a customer, Frances, who had two pairs of gorgeous, rare and vivid gems – yellow danburite and teal "cuprian" tourmaline. These are rare gems and great examples of their type. Both pairs weighed less than three carats.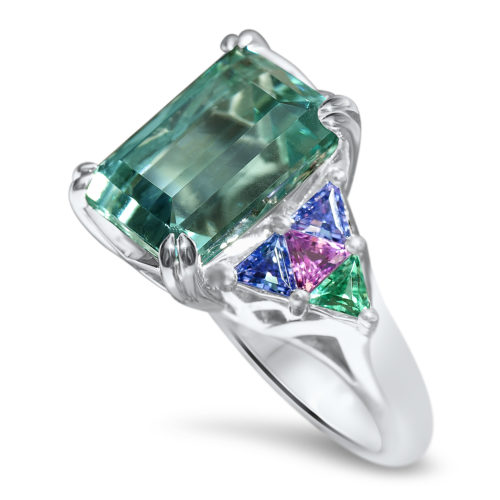 MOSAIC RING
Stars Aren't Always in the Sky
Stars are born, but not always in the heavens. For this project, we created what would be the star performer at my client's anniversary soiree, a vivid Blue Tourmaline and colored gem mosaic ring that stole the show..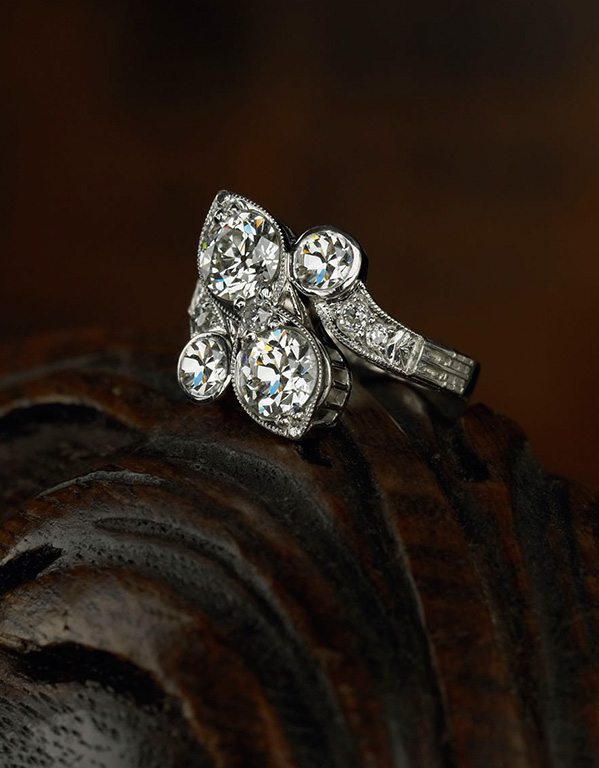 BRIDGE RING
Bridging Love & Time
This client was heart-sick – she had dropped a family heirloom down the garbage disposal! This ring was embedded with family history: It was her grandmother's platinum ring designed in the early 1900's, featuring the engagement diamonds worn by both of her great-grandmothers. Knowing we could never replace the original, I didn't try to replicate it exactly. This was an opportunity to create a new heirloom.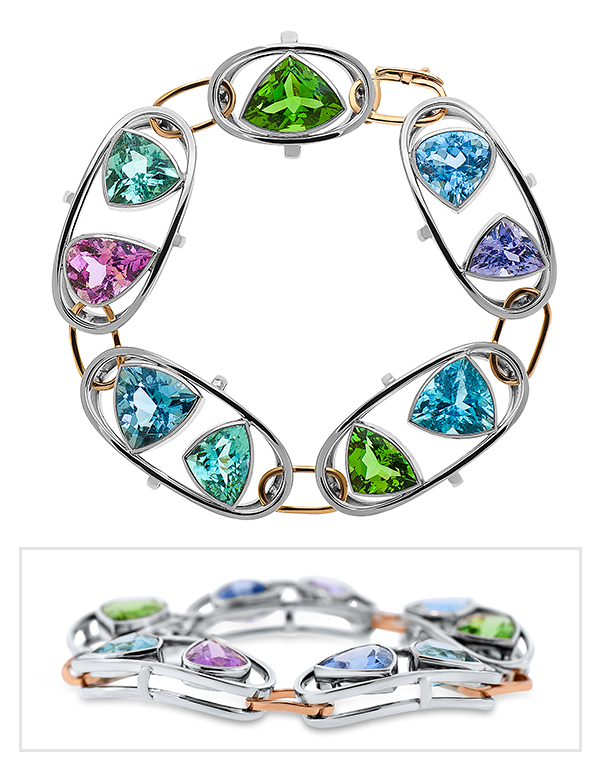 COLLECTING AROUND BRACELET
Collecting Around
Designing is about solving problems, albeit in a graceful, useful way. Drawing pretty pieces of jewelry is just part of the show which also involves engineering, comfort and function usually with a budget in place. In my second year of college, I wrote an essay on existential psychologist Rollo May's book "The Courage to Create." He spoke of creativity being urged on by working within limits. I didn't fully understand it at age 19, but after 25 years designing jewelry and working with clients I clearly understand the creativity that fountains from limits of materials, aesthetics and budgets. Limits on creativity yield innovation.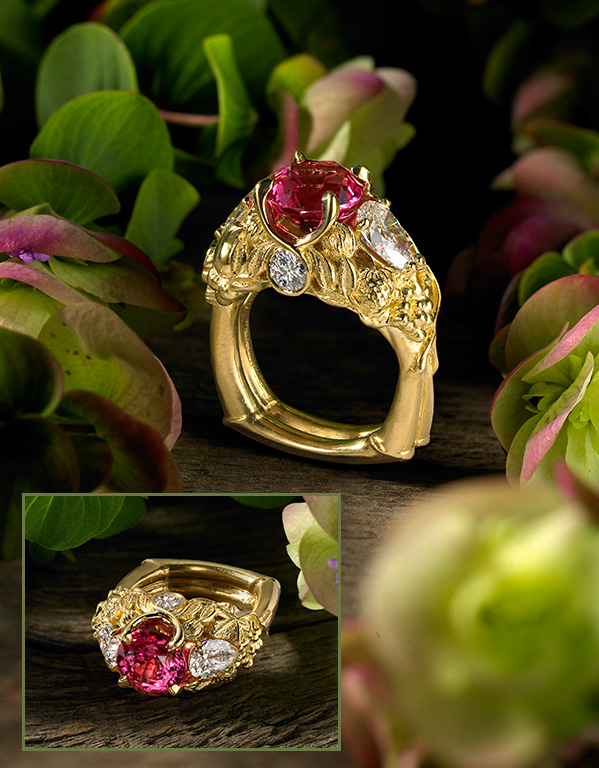 MIRADONIZ RING
Pleasure Garden
The memories came pouring out of Cynthia Renée's client, whose husband had gifted her with a custom-designed Cynthia Renée ring for their seventh anniversary. A young mother who had started her life in Eastern Europe, one of the client's earliest recollections was of a treasured grandmother's garden and fruit orchard. It was a place, as she described it, of "fragrant roses," with petals that her grandmother used to make jam.
TORII PENDANT
What to Wear with Anything
For many years, I have been captivated by the Torii Gates found in Japan. They are commonly located at the entrance to Shinto shrines to mark the transition between the everyday, mundane world and entrance into the world of spirit. The gates possess gentle, yet complicated curves as well as clean straight lines, retaining open space throughout. It seemed the perfect underpinning for this pendant — something boasting openness and space that could be worn in the most mundane of tasks as well as the most special occasions in life.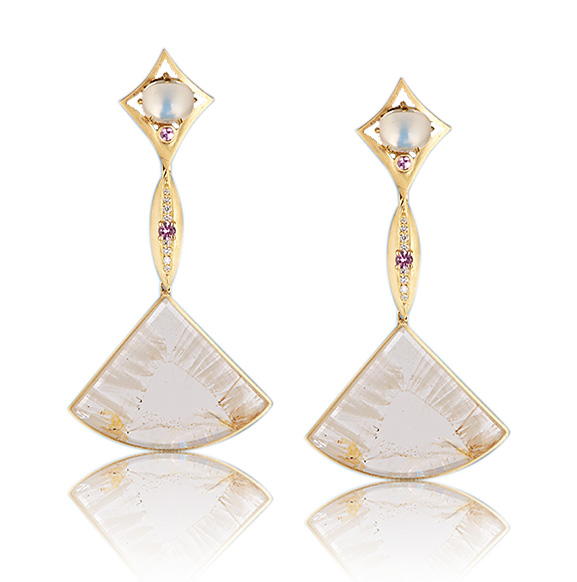 ANGEL EARRINGS
How to Create Your Story in Jewels
One of my greatest rewards is working with a client to distill their essence into a custom jewelry piece that tells a story for future generations.  Worn through life, our jewelry, now imbued with our memories and feelings, becomes a message in a bottle telling a story to those that come after us. Mother's Day was last Sunday, and I've been feeling my mother particularly close…
FROM A CLIENT WITH A WORLD-CLASS GEM AND JEWELRY COLLECTION
"For over 25 years, I have had the fortunate opportunity to work with Cynthia, and through her technical, market and sourcing knowledge have built a considerable colored gem collection. With her refined eye, due diligence and insight into my wish list, she is the only dealer I can trust to make buying decisions for me, whether she's in the highlands of Sri Lanka, a Hong Kong high rise or the Tucson desert. Her "full custom" jewelry design and crafting is graceful, refined and meticulous and she is always upping her skill set. With her experience, wisdom and judgment, she has no equal."
Gain fresh perspectives on Jewels, Creativity and the Sparkling Life.