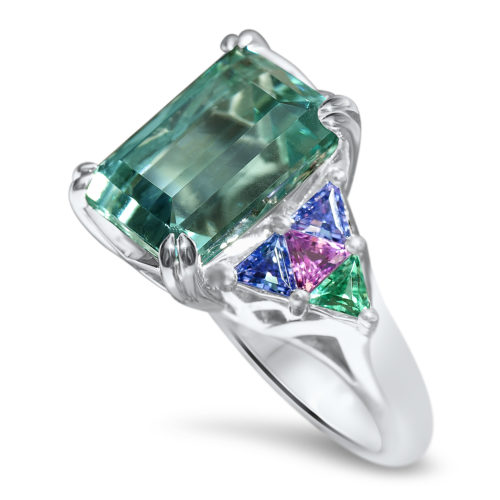 MOSAIC RING
Stars Aren't Always in the Sky
Stars are born, but not always in the heavens. For this project, we created what would be the star performer at my client's anniversary soiree, a vivid Blue Tourmaline and colored gem mosaic ring that stole the show..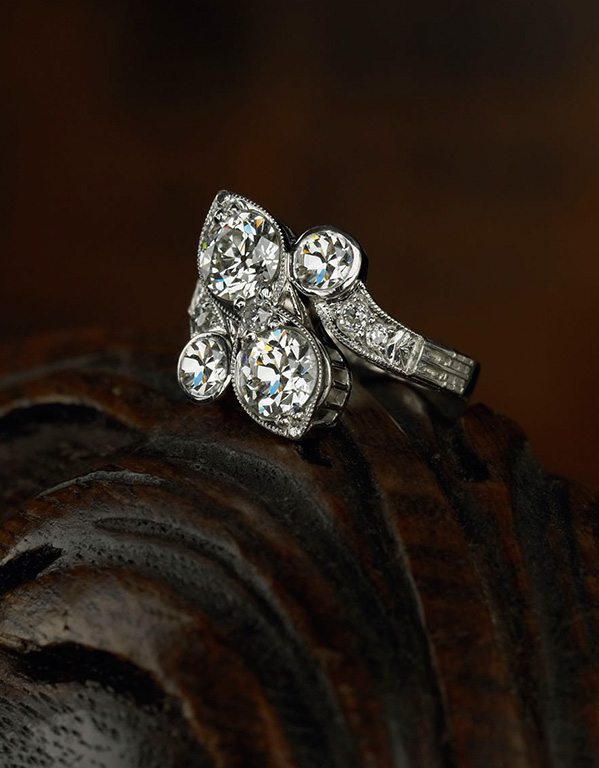 BRIDGE RING
Bridging Love & Time
This client was heart-sick – she had dropped a family heirloom down the garbage disposal! This ring was embedded with family history: It was her grandmother's platinum ring designed in the early 1900's, featuring the engagement diamonds worn by both of her great-grandmothers. Knowing we could never replace the original, I didn't try to replicate it exactly. This was an opportunity to create a new heirloom.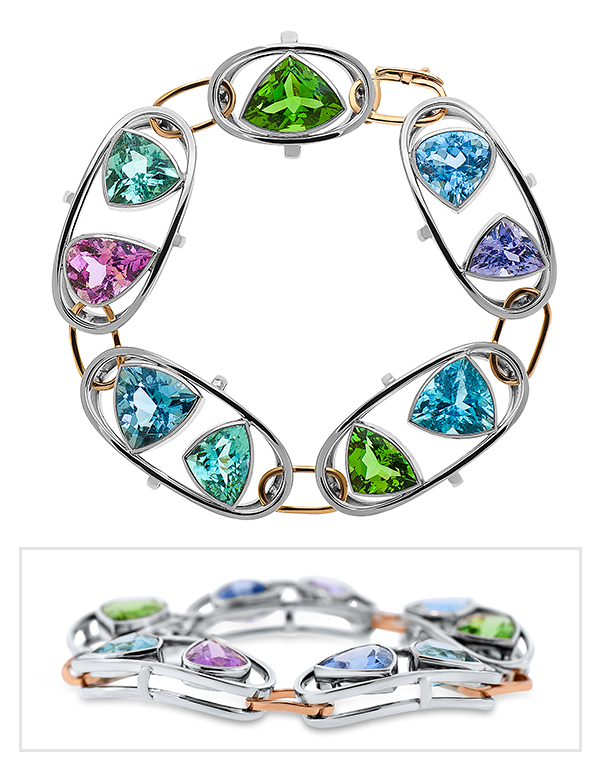 COLLECTING AROUND BRACELET
Collecting Around
Designing is about solving problems, albeit in a graceful, useful way. Drawing pretty pieces of jewelry is just part of the show which also involves engineering, comfort and function usually with a budget in place. In my second year of college, I wrote an essay on existential psychologist Rollo May's book "The Courage to Create." He spoke of creativity being urged on by working within limits. I didn't fully understand it at age 19, but after 25 years designing jewelry and working with clients I clearly understand the creativity that fountains from limits of materials, aesthetics and budgets. Limits on creativity yield innovation.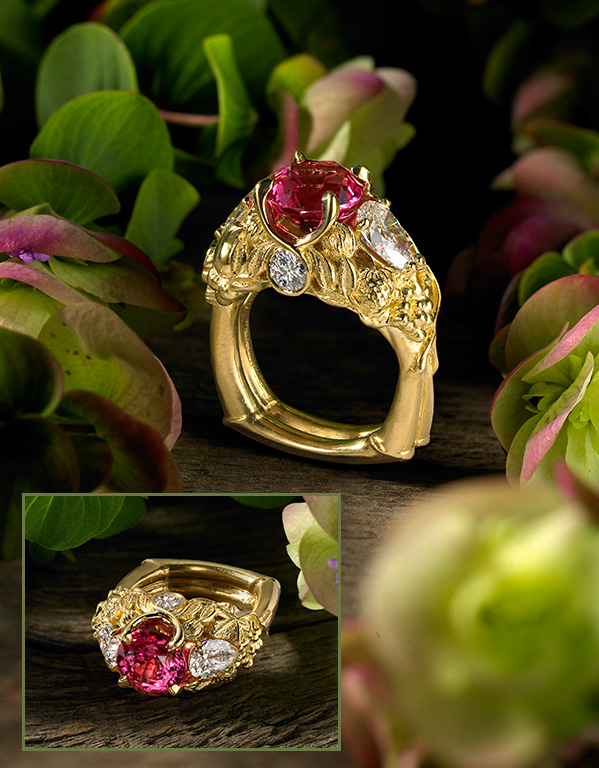 MIRADONIZ RING
Pleasure Garden
The memories came pouring out of Cynthia Renée's client, whose husband had gifted her with a custom-designed Cynthia Renée ring for their seventh anniversary. A young mother who had started her life in Eastern Europe, one of the client's earliest recollections was of a treasured grandmother's garden and fruit orchard. It was a place, as she described it, of "fragrant roses," with petals that her grandmother used to make jam.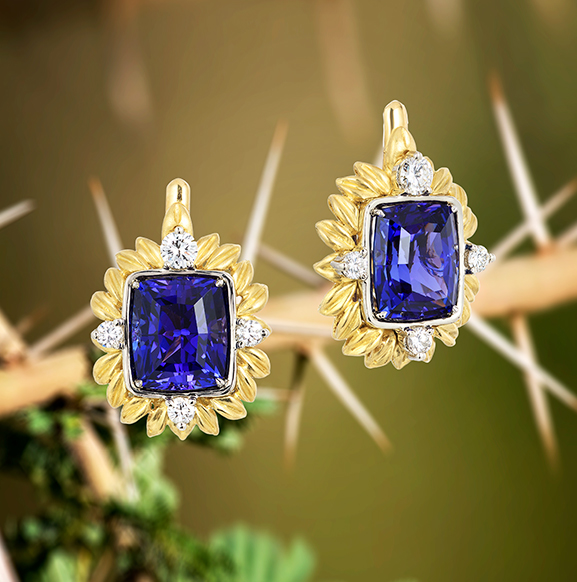 SERENGETI RING
Blue Pearl Moment
Have you had those fleeting moments in life when you experienced an unusually profound insight, a feeling of connectedness or intimacy? It's as if God pulls a curtain back, showing us the deeper workings of life. Then, it's over, and we're back to everyday life once more. I call these luminescent moments "Blue Pearl Moments." With my clients, I create custom jewels to commemorate their Blue Pearl Moments.
TORII PENDANT
What to Wear with Anything
For many years, I have been captivated by the Torii Gates found in Japan. They are commonly located at the entrance to Shinto shrines to mark the transition between the everyday, mundane world and entrance into the world of spirit. The gates possess gentle, yet complicated curves as well as clean straight lines, retaining open space throughout. It seemed the perfect underpinning for this pendant — something boasting openness and space that could be worn in the most mundane of tasks as well as the most special occasions in life.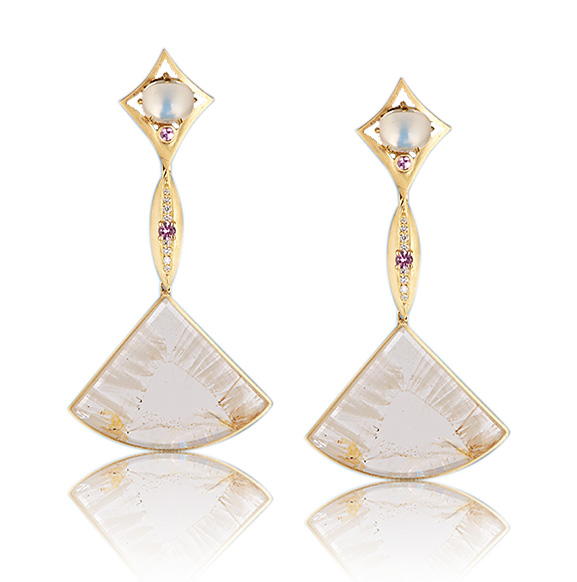 ANGEL EARRINGS
How to Create Your Story in Jewels
One of my greatest rewards is working with a client to distill their essence into a custom jewelry piece that tells a story for future generations.  Worn through life, our jewelry, now imbued with our memories and feelings, becomes a message in a bottle telling a story to those that come after us. Mother's Day was last Sunday, and I've been feeling my mother particularly close…