FULL CUSTOM DESIGN
Cynthia Renée's life work is helping clients distill their story into a custom piece of jewelry. Each jewel is deeply personal, a reflection of their life in precious metals and gems that becomes an heirloom carried as a legacy to future generations. Cynthia works with clients all over the world, using personal visits or video conferencing, in a range of budgets.
JEWELRY BOUTIQUE
Cynthia Renée likens her jewelry to a "color poem worn on the skin." She creates one-of-a-kind pieces that resonate between gem, form and wearer. The right jewel is a "power piece" which can transform your self and how you move in the world.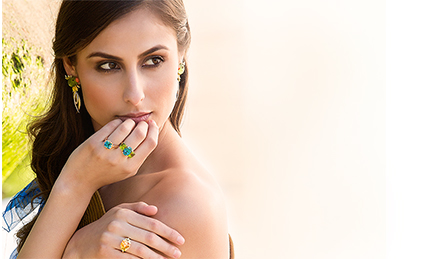 PROGRESSIVE PEARLS
Cynthia Renée's design eye and engineering mind turn a classic pair of pearls into her Progressive Pairs earring wardrobing system, allowing many looks from a few key components. The result ~ stunning transformations for any occasion.
COLORED GEM SOURCING
Steeped in the international gem and jewelry trade for over 30 years, Cynthia understands the colored gem market in ways few can. She is a savvy, honorable guide through the subtleties of the colored gemstone market, who can help you collect or find the right gem at the right price.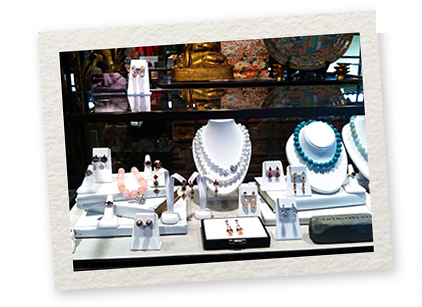 TRUNK SHOWS
Contact Cynthia Renée to arrange a trunk show of her Boutique Jewelry Collection and one-on-one custom design meetings for your private venue, fund-raiser or store.
HAVE CYNTHIA SPEAK
Given Cynthia's warmth and the emphasis she puts on communication and ideas, it is no wonder Cynthia is a lively speaker and passionate educator with decades of experience. Contact her to arrange speaking for your fund-raiser, business meeting, art museum or social group.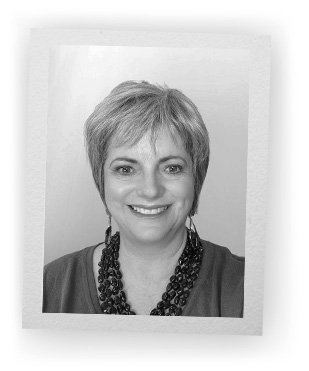 "Speakers need to be as knowledgeable as Cynthia. She was very interesting and informative ~ absolutely delightful and I am not much of a jewelry person!"
A GOLDEN DOOR SPA GUEST COMMENTING ON CYNTHIA RENÉE'S PRESENTATION
"Thank you for introducing 'color' to me. I look at fabrics and stones in a different way since I have met you. You are so thoughtful and generous."
FROM A CUSTOM DESIGN CLIENT
"Cynthia is one of the most talented, truly gifted people I know. She takes your old jewelry, adds a piece of gold or a stone and WOW you have a new statement piece! Her knowledge of gems and her ability to pair them, especially the colorful ones, is extraordinary...She can find or make anything you want and the product is more beautiful and of higher quality than you can find anywhere else."
S.J., NASHVILLE, TENNESSEE
Gain fresh perspectives on Jewels, Creativity and the Sparkling Life.