A Ring Bridging Love & Time
BRIDGE RING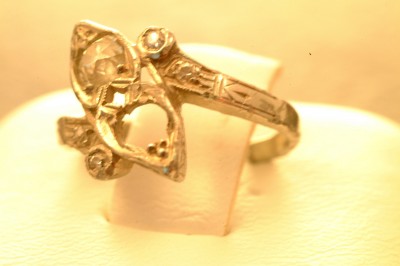 This client was heart-sick – she had dropped a family heirloom down the garbage disposal! This ring was embedded with family history: It was her grandmother's platinum ring designed in the early 1900's, featuring the engagement diamonds worn by both of her great-grandmothers. One of the great-grandmother's diamonds survived the accident.
Knowing we could never replace the original, I didn't try to replicate it exactly. This was an opportunity to create a new heirloom. Both great-grandmothers were kids in New York City in the 1880's, and moved to San Francisco after they married. Ah! – two cities with famous bridges, and what do bridges do? They connect! Let's work in a subtle bridge motif to connect time, love and the generations. At the time of her great-grandmothers' childhood, the Brooklyn Bridge was a social phenomena. They probably even strolled over it with their families. For San Francisco, the Golden Gate Bridge is an eternal icon.
I used the ring's original shape, but made it larger. The one remaining diamond was used as an accent, and two larger center diamonds for the center were sourced in an antique Old European cut.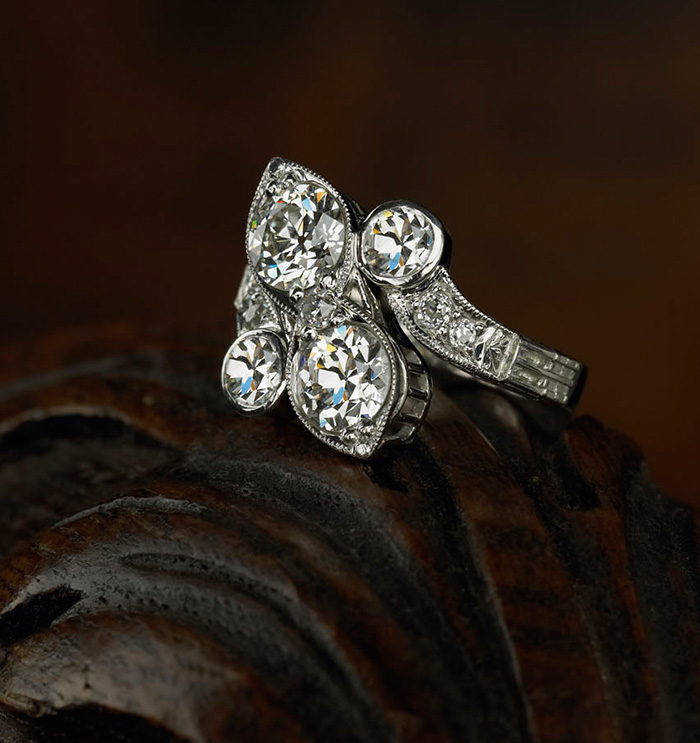 On the ring's shanks, I added an exact replica of the arches of the Brooklyn Bridge, and the ring's side gallery is reminiscent of the Golden Gate's cabled towers. These design elements do not take over the ring, only enhance it and tell a story of the wears – past and present. Inside the shank are engraved the initials of great-grandmothers, grandmother, mother and the current wearer.
"Dad, the ring is BEAUTIFUL!! It looks almost exactly like the original ring, except more brilliant as the diamonds are larger and probably better cut. Cynthia did a wonderful job on this piece, and I think you are going to really like it. I can't wait to show it to you in person. The bridge setting (meant to be suggestive of the Golden Gate) that holds the two larger diamonds is very well-done and sentimental. I absolutely love this ring. It brings back all the good memories (not the bad, i.e. the run-in with the disposal!). Thank you, thank you, thank you for being interested in remaking this very special ring of Mom's for me. It is a family treasure once again."
START WITH A FREE CONSULTATION
We start with a free 20-minute design consultation, over Skype or phone, where we can talk, ask questions, learn about each other and see if we are a fit. There is no commitment on your part after our call.
SCHEDULE NOW
Gain fresh perspectives on Jewels, Creativity and the Sparkling Life.