Dad loved pie. And, my mother was the Mistress of Pies, a delicacy more compelling to Dad than a seductive dance, but Mom probably had those too.

For me, Thanksgiving is pie. And, pie isn't mere pastry, but the most nourishing expression of love. Pie is my mother. After she died, the only thing I really wanted was her rolling pin.

I used to think "Save your Fork, there's Pie" was an old farm phrase alluding to a farmwife not being keen to add more utensil washing to her heavy workload. But variations of the phrase have all originating with Prince Phillip's trip through Canada. One evening he met a group at a Canadian community center to have dinner. As the table was being cleared, a woman advised him, "hold on to your fork Prince, there's pie."As I see it, when you save that fork, you're looking forward to something. The future looks bright – at least as far into the future as we can normally see. The future, viewed in pie time.

We're fed, probably "full up" today on Thanksgiving, and life is going to serve even a bit more sweetness.

Here's to you, your family and always looking forward to life.

Happy Thanksgiving,
Cynthia Renée
P.S.  I can't resist telling another "royal" story – one I heard in Sri Lanka.  Once, decades ago, the Queen and Prince Phillip were the guests of honor at a formal banquet in Sri Lanka.  A server came up behind the Queen and poured her tea, morning around to the next guest around the table. Behind the tea man, was a man carrying a creamer who approached the Queen asking "May I milk you, Madam?"  The Queen nodded politely. I imagine Prince Phillip had fun with that once back in their private quarters.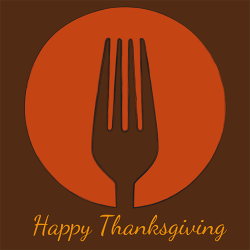 Gain fresh perspectives on Jewels, Creativity and the Sparkling Life.