During the Spring of 2014, I met a wonderful person with a natural gift for gem collecting. She purchased my Petite Owl Queen pendant/brooch and thereafter, we stayed in touch. It turns out that she is quite the colored gemstone aficionado.
Several months passed before she mentioned she had been seeking an electric red spinel for a few years- an esoteric rarity. A gemstone revered by dealers and collectors, Spinel remains virtually unknown to the public. Showstoppers in many colors, the vivid reds garner the most attention, appearing "battery-powered" in their intensity. Like an unseen stoplight – it makes one halt and gasp.
The Spinel's path to fame has been long and winding. Before the red spinel deposit was uncovered in Mahenge, Tanzania in 2007, its locale was primarily Burma, the home of the fabled Burmese ruby. Sharing a similar color palette, it was often mistaken as the "king of precious stones". Beyond misidentification, its debut onto the gem scene was mitigated by its rarity. There weren't enough of them to create a taste for demand among buyers. Thus, dealers and collectors purchased these brilliant, durable, colorful gems, while the larger buying public remained unaware.
But no more. The deposit in Mahenge followed the patterns of economics, increasing the market's supply enough to generate demand. Since that time, prices for fine red spinel have soared to a level commensurate with their beauty, rarity and resilience, though they are still less than an equivalent fine ruby.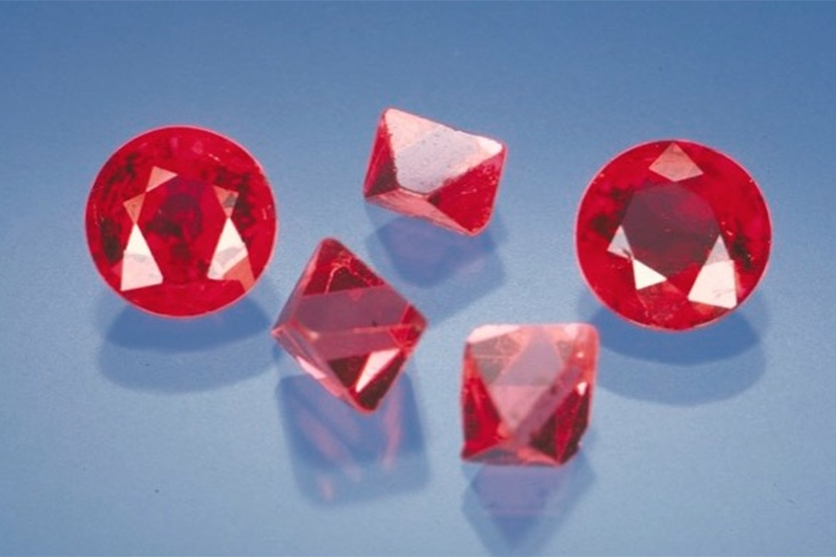 Using her network of international miners and dealers, Cynthia found this sizeable 8.93 carat gem. Electric, slightly pink-cherry red, and beautifully cut, it had it all. And as fortune would have it, the pear-shape it possessed was the exact shape the client had been envisioning, almost like a heart without a cleft resulting in a equidimensional shape that allowed more light and brilliance than a standard elongated pear. Luck or fate, it did not matter. It was perfect!
Once purchased, Cynthia went to work translating the client's style into a classic ring that would proudly hold this jewel. The pear-shape is an asymmetrical cut, with a point on one size and a curve on the other, thus the design has to be different on each side. See the sketch.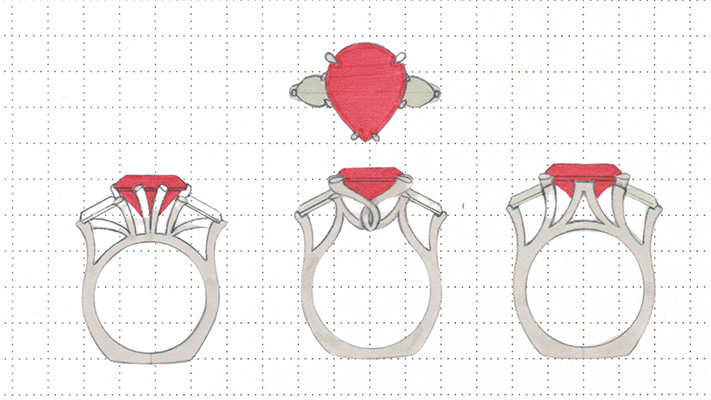 The left view (A) shows the ring design on the curved side where the gallery has a looped design – a stylized Y the client's initial; the right view (C) illustrates the ring on the pointed side where a chevron prong protects the gem's tip. Palladium was the metal of choice. We both knew its white, reflective gleam would harmonize with the red-hot gem creating a magnificent interplay.
A one of a kind ring, due in part to a one of a kind gem, my client splurged on diamonds, selecting 7×5 mm pair of pear-shapes. In cases like this, only the best will do. Prior to setting the gem, Cynthia secured a certificate from the Gemological Institute of America so the gem's wearer would have that for her provenance. The result: A spectacular Valentine for all ages.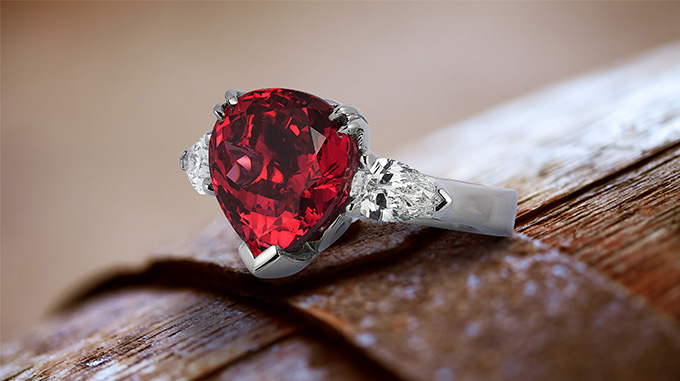 Custom-made palladium ring featuring 8.93 carats Red Spinel (Mahenge, Tanzania) accented by two pear-shaped diamonds (F-G/VS+) weighing 1.23 carats total. Size 5.
Gain fresh perspectives on Jewels, Creativity and the Sparkling Life.