The years go by, and we find our jewelry box filled with unworn bits and pieces gathered over the years. Whether beloved jewels passed down from family or gifts and purchases made for our younger selves, they no longer suit the present day us. I can help you transform your seldom-worn jewels into your new "go-to pieces." Sometimes, it's just a tweak or two to make them suddenly relevant. With others, we can enjoy the fun of working together to redesign, as I did with my dear client, Monique.
Making the Old New Again
As Monique and I met at her dining room table surrounded by her jewels, I developed such warmth for her and her family learning about them through her jewelry: the rings passed down from her mother who purchased them for herself busting glass ceilings as an early career woman; the early jewelry gifts from her husband showing how far they had come together working in their business; and her son's love expressed in the gift of a diamond. Some of her fixes were easy: adding charms to a bracelet, sizing, fixing clasps. When her jewelry was not salvageable, we sent the gold to the refiner getting her a substantial credit towards creating two new rings.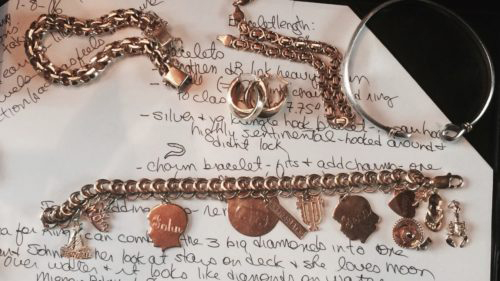 A Family Affair
As I sat holding three of Monique's rings, I instinctively nestled them together into a rough outline of a custom ring concept that would combine all the diamonds in a jewelry storybook of family love. Monique's family is unusual in that her husband and son LOVE being involved in the design process. Several times over our work together, they would meet over dinners to review my design concepts and make their suggestions. Our four heads decided to create one ring using her larger three round diamonds, which was new for Monique as she is rather private and "not a bling person."
To make the design balance visually, we purchased a smaller 0.44 carat round diamond to set across from the one from her original engagement ring. This was the only additional diamond purchased – all the others were from her original jewelry. All of the diamonds, purchased over the course of her full life, have different sizes and colors. No matter – we combined them as a tonal white flower bouquet adding small surrounds to the two larger diamonds to balance their size.
I added Monique's initial, M, in the side gallery. When she saw that, she smiled at me and said, "Yes; I'm there supporting them all," referring to how she's helped and supported her entire family.
As a final "I Love You," her husband had a sweet sentiment engraved inside the shank. Here it is… Monique's new diamond ring:
Monique's Encore Ruby Ring
Early in their marriage, Monique's husband gifted her a charming ruby ring – a "Princess Diana" style. Though just right for the early Monique and treasured sentimentally, it seemed a bit small for her modern-day self.
Starting with her ruby as the foundation of a new ring, we created a custom jewelry piece surrounded with the diamonds repurposed from her old jewelry.
We crafted this ring in two-tone white and yellow gold, making it easier for her to wear together with her new two-tone gold diamond ring (see the article above) and the yellow gold jewelry she typically wears in her everyday life.
Do you see the symbolic "M" in the gallery?
While her diamond ring is a white flower bouquet, her new ruby ring has the striking clarity of a single red rose.  Viola – here it is!
Custom Ring in 18 karat yellow and white gold, featuring Monique's 1.24 carat ruby
with 0.80 carats of diamonds – all but five new ones from the her original jewelry.
Gain fresh perspectives on Jewels, Creativity and the Sparkling Life.