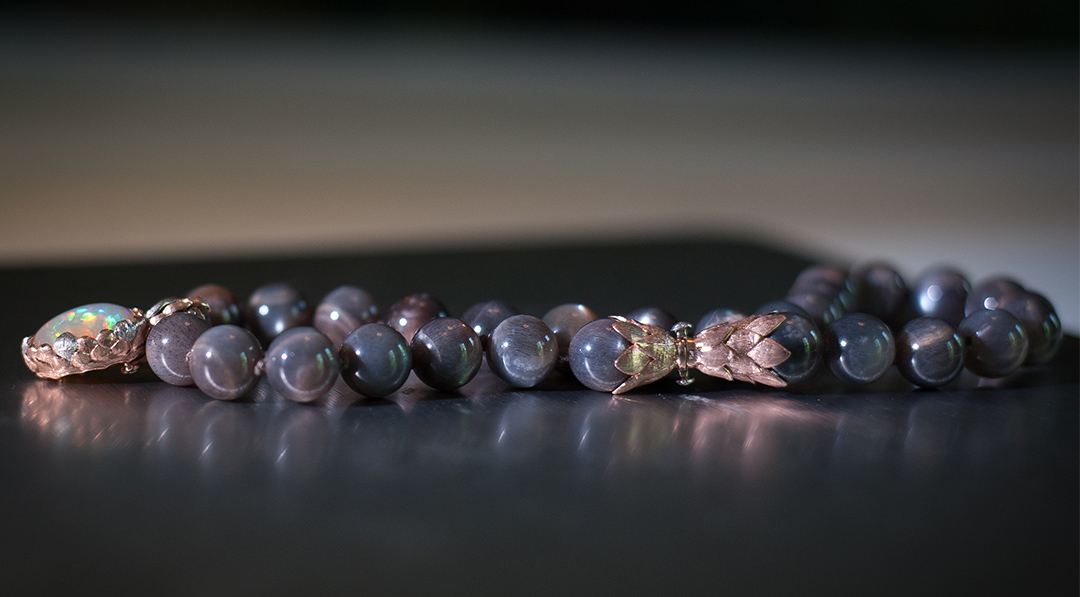 "Now I know where Prometheus hid the fire he stole from the gods," was a friend's reaction upon seeing fire opal for the first time. It probably wasn't the best hiding place.
Opal can burn with a vivacity that cannot be extinguished.
Opal tempts poets to create myths and jewelry artists to make inspired designs. So, when a client came to Cynthia Renée with one of these fire-breathing opals asking her to design a pendant, Cynthia wanted to give it a setting that would let its hot embers glow.
One fascinating aspect of this opal was its see-through translucency with floating vibrant patches of color. It was mesmerizing to hold the opal and actually see through it, then turn it in the light to see the play of colors. Not wanting to remove that joy with a closed back pendant, Cynthia set the opal with an open back so the wearer could continue to see through the opal while turning it in the light hypnotized by the colorful depths. The open back also allowed a tactile pleasure – the owner could enjoy running her finger over the smooth convex back of this cabochon-cut gem. This is as close as mortals get to holding a rainbow.
Cynthia's client is softly feminine herself, yet she wanted the piece to be a testament to opal's Promethean fire. The solution: stack layers of textured rose-gold and occasional platinum lotus petals around the gem. Rose gold was the perfect complement to this opal's translucent peach color base. The form of the lotus petals is soft while their texture glistens.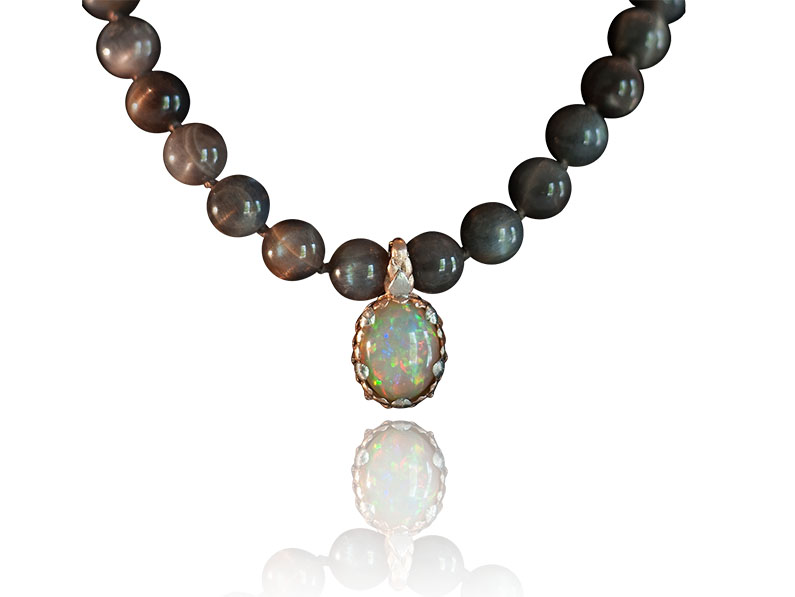 The pendant's feminine effect was further enhanced by its dangling from a subtle bead necklace of gray moonstone, which has peach-colored wispy veining softly harmonizing with the opal. A petal-motif clasp was made for the moonstone beads making them "important" enough for the client to wear alone, without the pendant, when she is traveling or more casual. The client can wear the clasp on the side or in the back.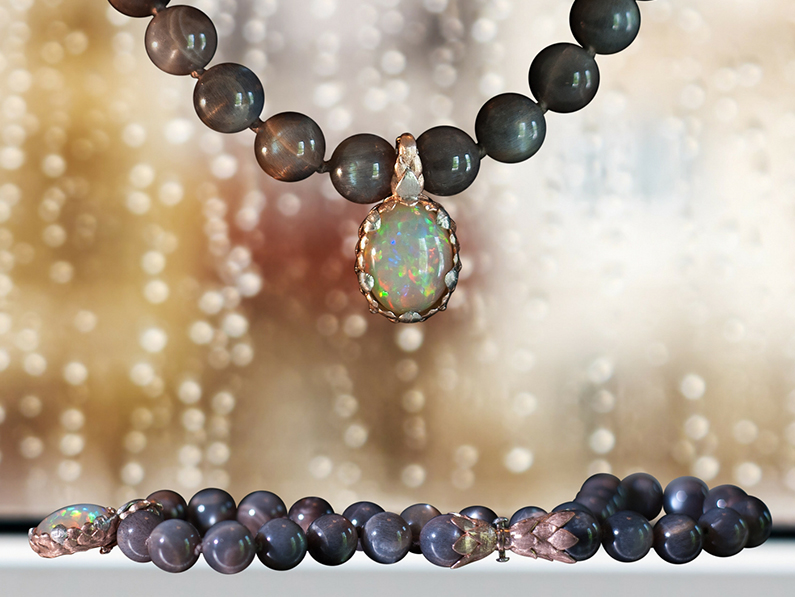 The story doesn't end here. The client wears her opal pendant with another of Cynthia's creations: a pink tanzanite set in a white and rose gold ring. But rather than risk stealing any more fire… let's wait to describe the charms of pink tanzanite.
Gain fresh perspectives on Jewels, Creativity and the Sparkling Life.