Everyone's a genius in hindsight. More valuable is foresight – the ability to predict and take action based on insight into a future chain of events.
Guided by intuition, vision, and smarts, my client purchased these exquisite 8.03-carat, tangerine Spessartite garnets in 2006. Unlike diamonds, which are controlled by artificial supply and demand, colored gemstone mining is like a free flowing river. What you see on the market at any time represents what is actually available. Rare gem finds can come to the market, be snapped up and no more available for decades, if at all. If you choose to pass on an opportunity, it may be the only one you'll have. My client chose to act and snapped up the Spessartite pair from Nigeria.
Last Spring, I came upon a pair of extremely large, vividly colored Blue Zircon from Cambodia. What's so difficult about matching such rare Blue Zircons is that you need two gems of that dark intensity. When they are found in the gem market, they do not match in size and shape – they must then be recut which often changes the color match. These unusual gems still matched after recutting, ending at 28.67 carats.
Before entering them in inventory, this same client snatched up the Zircons, envisioning for herself a stunning pair of earrings combining the compelling sunset hue of the Garnets with the Caribbean blue of the Zircons. Nothing is more beautiful than the expanse of the ocean warmed by the reflective light of the sun. They steady one another creating a visual strength and balanced tension between that which quenches and that which sears. This backdrop led to the creation of this captivating pair of earrings.
The earrings were crafted from icy palladium, a platinum group metal. Rose gold was used for the prongs and hand-textured under galleries to further warm the Garnets and add an element of tenderness to the composition. For versatility, these earrings were created as Progressive Pairs, a system I engineered enabling stones to be worn together, alone, or with different colored gem drops. Thus one original pair of earrings becomes many (See photos for variety).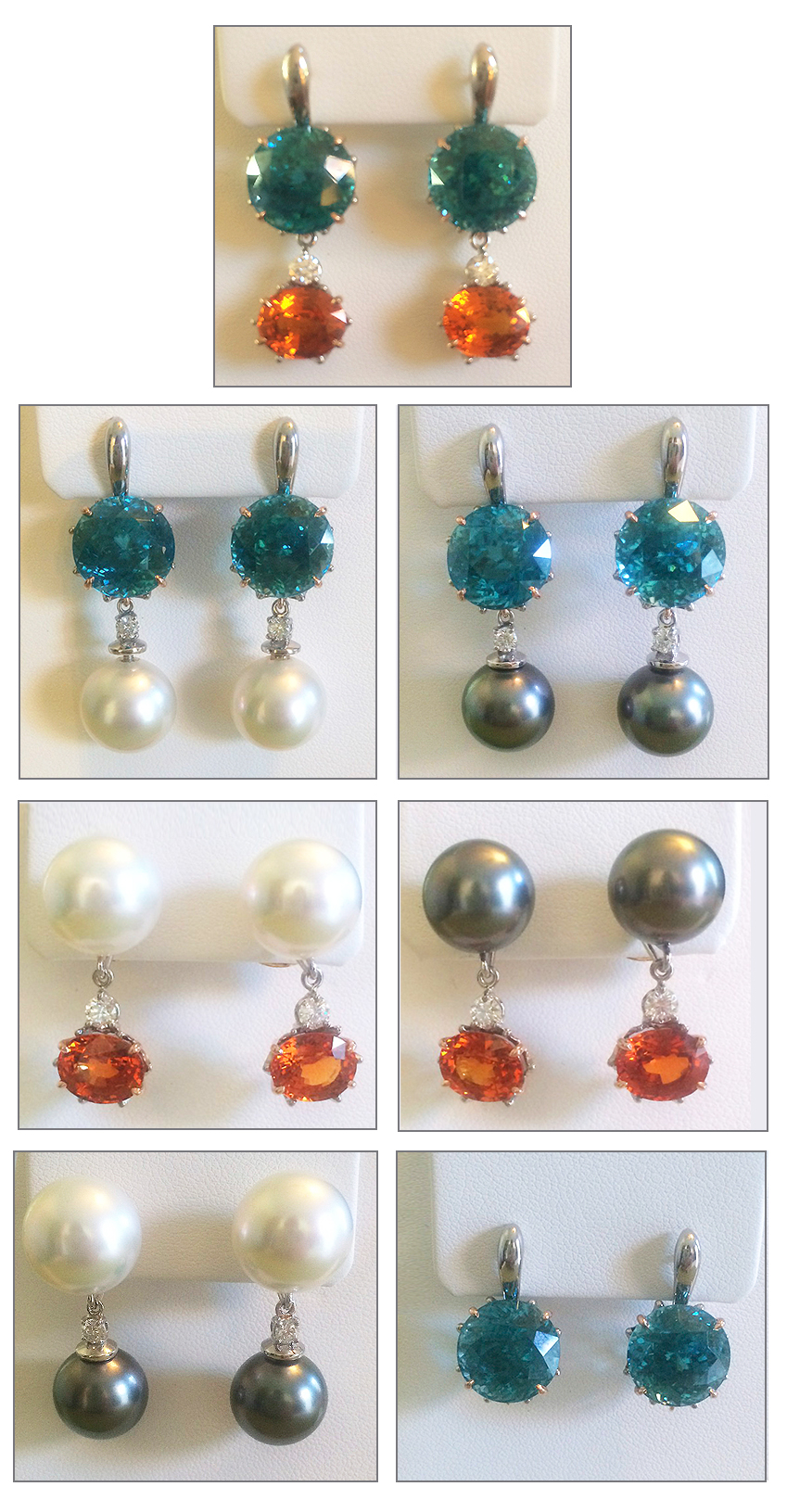 Gain fresh perspectives on Jewels, Creativity and the Sparkling Life.