Origami, from ori meaning "folding", and kami meaning "paper," is the traditional Japanese art of paper folding. Practitioners of the art can transform a flat sheet of paper into a piece of beautiful—if ephemeral—art, through folding and sculpting techniques.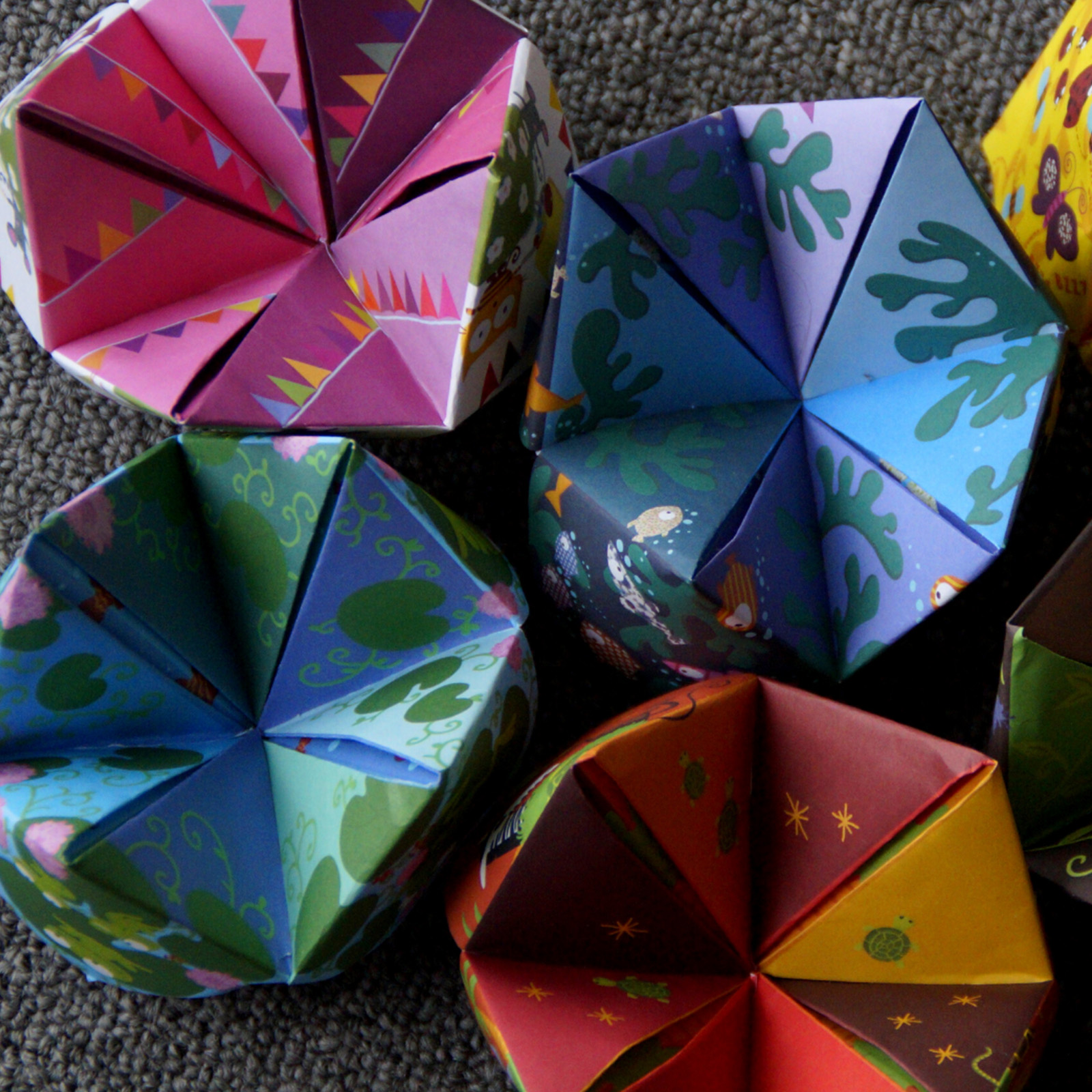 Jewelry artist Cynthia Renee, fascinated by the shapes and ceremonies of origami, watched her young daughter create an origami shape. She was struck by the similarities of the two crafts. "While origami involves paper folding, the faceting of gems is light folding," says the artist. "Both practitioners start with a 'blank slate' of plain paper or rough stone, upon which they apply geometric principles." Her daughter's folds so closely mirrored the hexagonal gem cut Cynthia had been working on, that she named the cut "origami" after her daughter's paper art.
When possible, Cynthia selects her gemstones in their rough form so that she can examine the material and make decisions on how each gem will be best cut to show off its greatest beauty. "My origami cut is symmetrical (I do like symmetry) and it really throws the light," she says. "The cut works particularly well with ametrine (a unique gem that is a natural mix of amethyst and citrine found only in Bolivia), as it allows the purple and golden colors to mix and flow in tides of purple, umber and golden. I also use the cut with an intense citrine I set in a pair of earrings I named "Origami."
"When you see a beautiful colored gem that throws such light, it is not just by chance," explains Cynthia. "The gem in its uncut, rough form was probably unusually fine to start. Then, a lapidary paid very careful attention to the preciseness with which they applied the gem's facets, symmetry and polish. Good gem cutters can't 'make a silk purse out of a sow's ear,' but they will bring out the ultimate beauty that lies within the rough gem piece."
"The wearer of my Lotus ring [shown here] will take the wheel of her car after a busy day and as the sunlight hits her ring, she will enjoy seeing the flood of colors move and change within the ametrine – just like a sunset – no view is the same twice."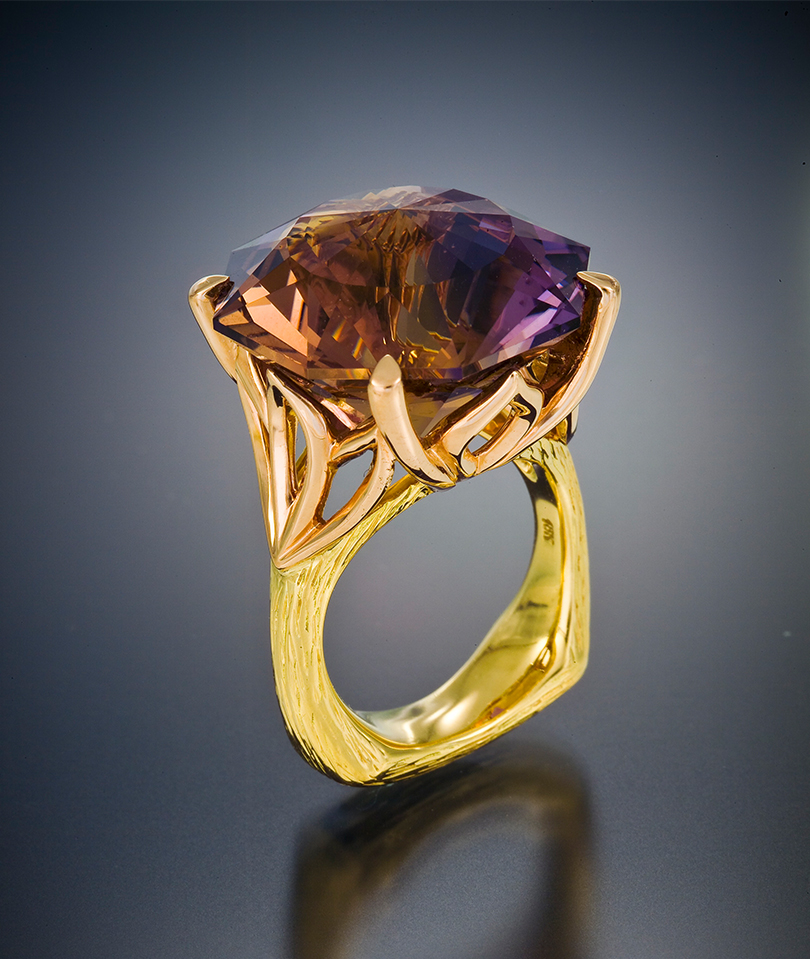 Cynthia Renee "Lotus" ring featuring a 26.89 carat "Origami-cut" Ametrine set in an 18 karat red gold lotus basket, with an 18 karat yellow gold textured shank, including detailing from a leaf the artist found in Thailand. Though it's a prominent ring, the Cynthia Renee shank prevents the ring from spinning.
Photo by Daniel VanRossen. Suggested Retail Price: $7500
"For the woman who wears my origami-cut citrine earrings, as she moves her head, the light from the earrings ripples and gleams," marvels the designer. "It's almost like a lighthouse beacon – brightening the face and calling to be noticed across the room, but subtly."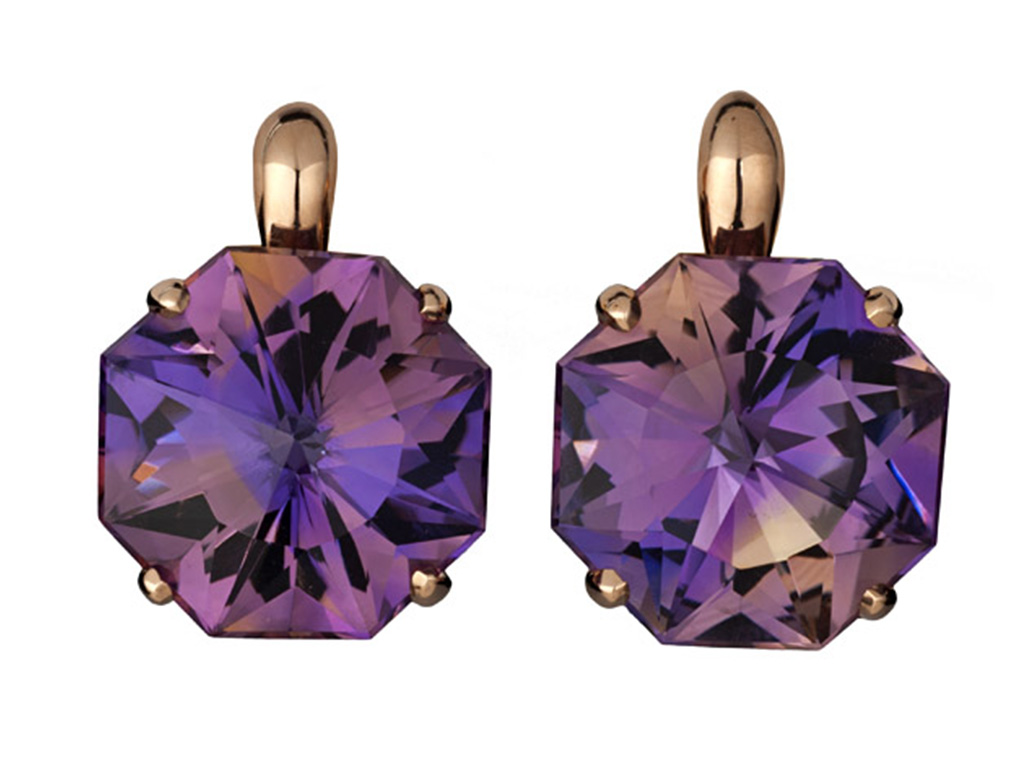 Origami-cut Ametrine in 14 karat rose gold, by special order. (photo by Robert Weldon)
"I'm not a bling jeweler, filling every surface or space with pattern or small diamonds," says Cynthia. "I use substantial gems that speak for themselves and support those gems by layering metal colors, textures and/or form to balance the strength of the gemstones. That leaves room for dreams….for mystery and strength…no distractions from a funhouse mirror of diamond melee. "
Gain fresh perspectives on Jewels, Creativity and the Sparkling Life.