The memories came pouring out of Cynthia Renee's client, whose husband had gifted her with a custom designed Cynthia Renee ring for their seventh anniversary. A young mother who had started her life in Eastern Europe, one of the client's earliest recollections was of a treasured grandmother's garden and fruit orchard.
It was a place, as she described it, of fragrant roses, with petals that her grandmother used to make jam. And there was fruit everywhere, which to her tiny eyes looked like the colors of the gemstones she saw in Cynthia's studio: golden quinces as big as a man's fist, and raspberries, cherries, a walnut tree, strawberries.
Then, as she spoke to Cynthia about the feeling of love and security that she felt with her grandmother as a child, a second memory emerged.
This time, as a grown woman, she found herself alone walking on the Camino de Santiago de Compostela, a medieval pilgrimage route along the northern coast of Spain. It is nicknamed the Milky Way because of the constellation of stars that the pilgrims believed led them on their way. It was along this picturesque route that Cynthia's client made the decision to marry her husband.
Stopping for a brief detour along the way, she discovered the Monasterio de Santo Domingo de Silos, an ancient monastery with a magnificent Romanesque cloister nestled at its heart. In this place of peace, perfection, and balance, Cynthia's client found a metaphor for life that touched her deeply. Among the many perfect columns of the cloister, an unknown and unheralded medieval mason crafted his own signature for the ages, a single set of twisted columns meant to remind future generations of their own beautiful and imperfect humanity. It was, she said, so touching that she was absolutely stunned.
From these influences, Cynthia created her client's 18 karat gold ring, with many consultations along the way, all via Skype, email or telephone – Cynthia and her client didn't even meet in person until after the ring was completed!
At varying points in the golden metal, the designer mingled pears, walnuts, strawberries, roses, rose leaves, and grapes with leaves and tendrils, (Photos I and II). In a special tribute to her client's cherished relationship with her husband and now, their son, the ring also features three cherries nestled in the under gallery to represent their life together, (Photo III). It was important that the cherries stems all meet together, as the family does in life.
On one side of the ring's shank, attached to the fruit and flower elements by grape tendrils, is a depiction of the leaning/twisted column of Santo Domingo. (Photo IV) The other side of the shank features a regular column. In fact, Cynthia created the ring so that in every way her client viewed it, there were different images to take in. Like Santo Domingo's cloister with its off-center column, says Cynthia, the ring is intentionally not perfectly symmetrical.
The jewel's crowning glory is a rare, oval-shaped padparadscha sapphire from Madagascar, weighing 3.71 carats, and a pair of pear-shaped diamonds weighing a total of 1.41 carats, accented with two additional round diamonds weighing a total of 0.39 carats. The padparadscha was an inspired and symbolic choice, not only for its extreme rarity and glorious color, but also because the term "padparadscha" is derived from the Singhalese word for the color of a rare and beautiful flower.
The client decided to name her ring "Miradoniz" after a poem by the romantic poet Mihai Eminescu, which she loved as a child. In the poem, Miradoniz is a beautiful forest spirit living in a castle with an enchanted garden, where golden flowers and butterflies sway in the golden sun.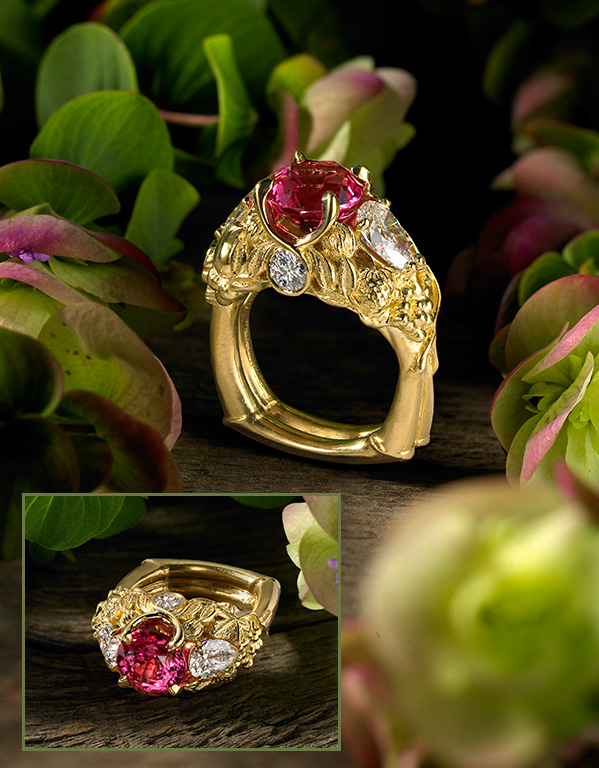 Cynthia Renee Full Custom Designed ring for a private collector. The padparadscha sapphire was found by the designer using one of her sources around the world. Please inquire with Cynthia Renee for gemstone sourcing and custom design commissions.
Gain fresh perspectives on Jewels, Creativity and the Sparkling Life.