WHY
:
Chlorine & hand sanitizers pit metal surfaces and destroy the  luster and polish of pearls and many colored gemstones.
DO:
Take your jewelry off before swimming in a chlorinated pool, bathing & dishwashing.
Put your jewelry in a safe place, NOT in a wadded tissue that you then forget and throw away (from personal experience).
Many of you have a ring folder you received with one of my rings – carry it in your purse to store your ring in a safe zipper pocket.
Put ring spindles in your bathroom and kitchen sink so you have a regular and safe place to store your rings while you are immersing in chlorine.
See my list of Jewelry Care and Storage Supplies here.
Says one honeymooner "How I wish I had taken my ring off – now it sleeps with the fishes."
WHY:
Your fingers shrink when immersed in the cool water of oceans, pools, lakes or rivers. Yes, even warm Caribbean water – anything less than your body temperature of 98.7F.
The movement from our hands when swimming, paddling or playing makes these now loose rings even easier to slip off.
 DO:
Remove your jewelry before water sports, even boating.
WHY
:
Sunscreen and lotions can contain chemicals that are abrasive or caustic to fine jewelry, particularly pearls.
DO:
Put sunscreen & lotion on…let your skin absorb it…then put on your jewelry. "Save the best for last."
After wear, wipe your jewels with a damp, clean cloth to remove any residual lotions or perspiration.
WHY
:
Sand can easily scratch and abrade precious metals and gems.
DO:
No sand castle building while wearing your rings – better yet, leave your fine rings safely at home.
WHY
:
Gloves are not adequate protection from the abrasion of metals and gems and distortion of precious metals.
Heavy lifting, whether barbells, a full gardener's barrow or even your 100 pound dog constantly pulling the leash, exerts a strong force on rings and they can become bent, broken and out of round.
DO:
Remove your fine rings before gardening, weight lifting or any other hand-intensive activity.
P.S. I created the 18 karat Opal Doublet Studs shown above for active "sporty spices" because they are durable, beautiful and easy to wear.
WHY
:
Summer can be sweaty & sweat contains salts and acids that can damage the surface of pearls and porous gemstones like turquoise and coral.
My dear friend Fran Mastoloni, a major pearl importer for several generations, told me "pearls like to be worn as the skin oils enhance the luster."
DO:
Wipe your pearls and other jewels with a damp clean cloth after hot summer wear, removing any perspiration before putting them away.
There is a circle of women who wear our natural
Rock Crystal Bead Necklaces
to cool off in the summer. (or for hot flashes).
Put them in the refrigerator, then enjoy the cool….
…they feel heaven sent……
Follow our Instagram where we talk about Jewels, Creativity and the Sparkling Life!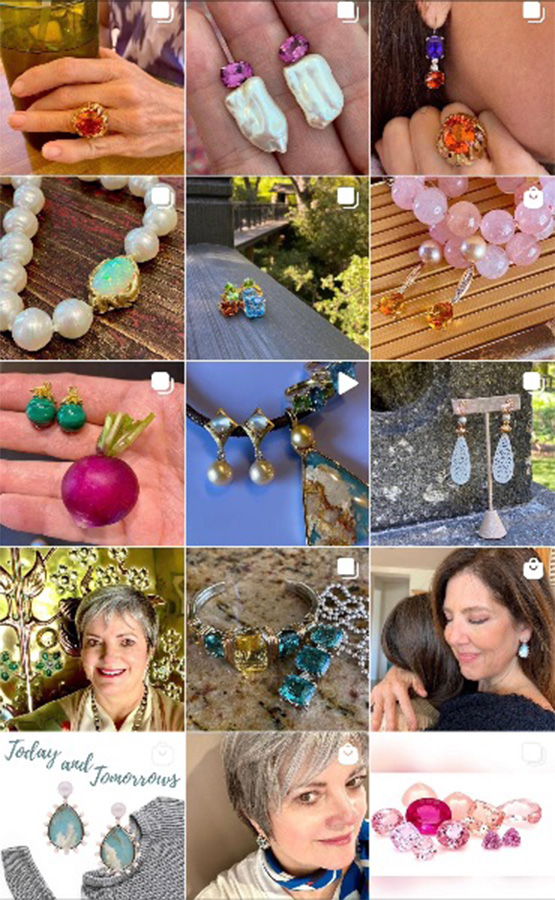 Gain fresh perspectives on Jewels, Creativity and the Sparkling Life.