Yesterday was Earth Day and I told a story about why the slogan "Inherit the Earth™️" speaks to me.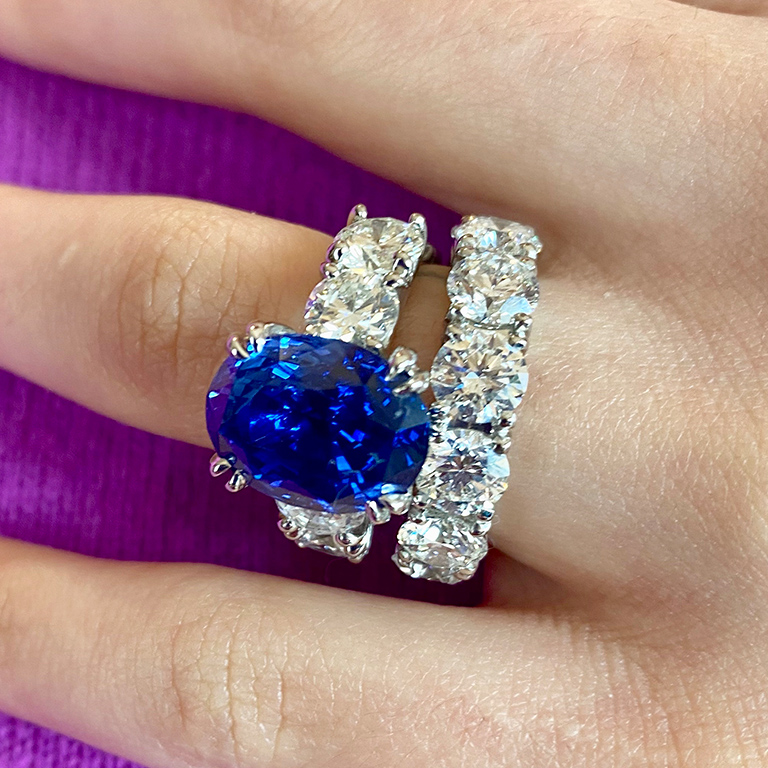 Looking for a story with a happy ending?  Read on…
Once upon a time, there was a bright and beautiful woman who became a wife and mother while working smart and savvy in finance taking charge of her life so she could retire while her son was in college and run around the world exploring and listening to music with her husband and/or friends.
She had been dreaming of a white-hot river of diamonds flowing around her finger.
Just before she retired, we sourced 12 matching diamonds to custom-design a platinum ring holding 8.5 carats (photo below).
Her retirement came, her son went off to school, then it was time to focus on creating the Blue Sapphire ring she wanted to wear with the Diamond eternity band. We had found her a superb 12 carat Sri Lankan Blue Sapphire.
The ancient Persians thought the Earth rested on a giant Blue Sapphire, whose color reflected up to color the heavens.
If that is the case, then this Sapphire is the color of heaven.
What more does she need?  Probably more paddle boarding with manatees, Jackson Browne, great food and roaming through unexplored territory.

A little bit about ring shank shape
For my client's new Blue Sapphire ring, she wanted the shank shape to match the shape of the eternity band, when seen on the top of her finger. But, this isn't usually the case.
Above is a look at the variety of gallery designs a 3-stone ring can take and I can design one just for you.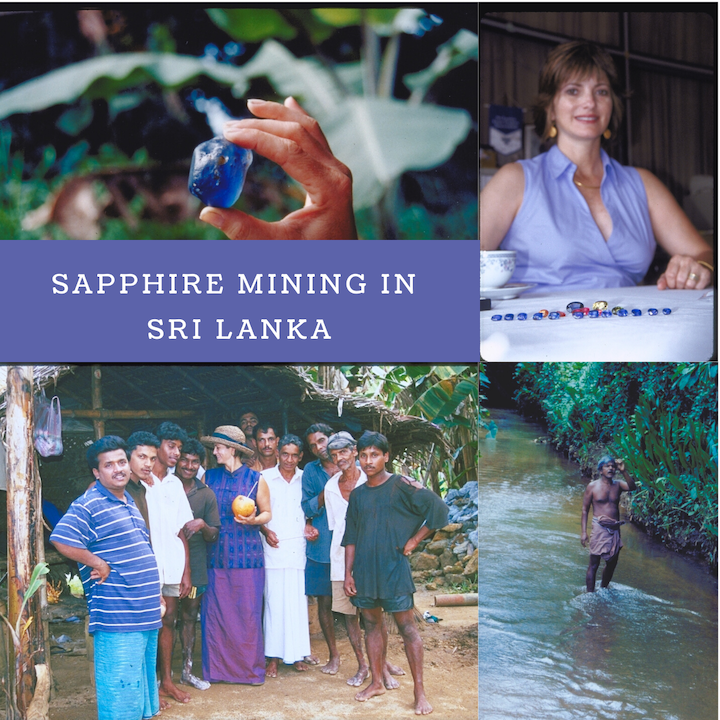 Above is the area of Sri Lanka where the Blue Sapphire in the rings above and below came from. The photos were taken over many years and show the smaller artisanal scale of the mining.
I've spent 36 years developing my expertise with colored gems and jewelry. Let me help you avoid shallow luxury by finding the right gem…at the right price.
Speaking of Blue Sapphires….
A dear friend and client is Romanian and just finishing her thesis (at Stanford!) on Queen Marie of Romania.
See her extraordinary personal collection of Romanian Folk Clothing here.
We just finished talking about the "lost" Blue Sapphire of Queen Marie of Romania, who is shown below in her royal and national costumes.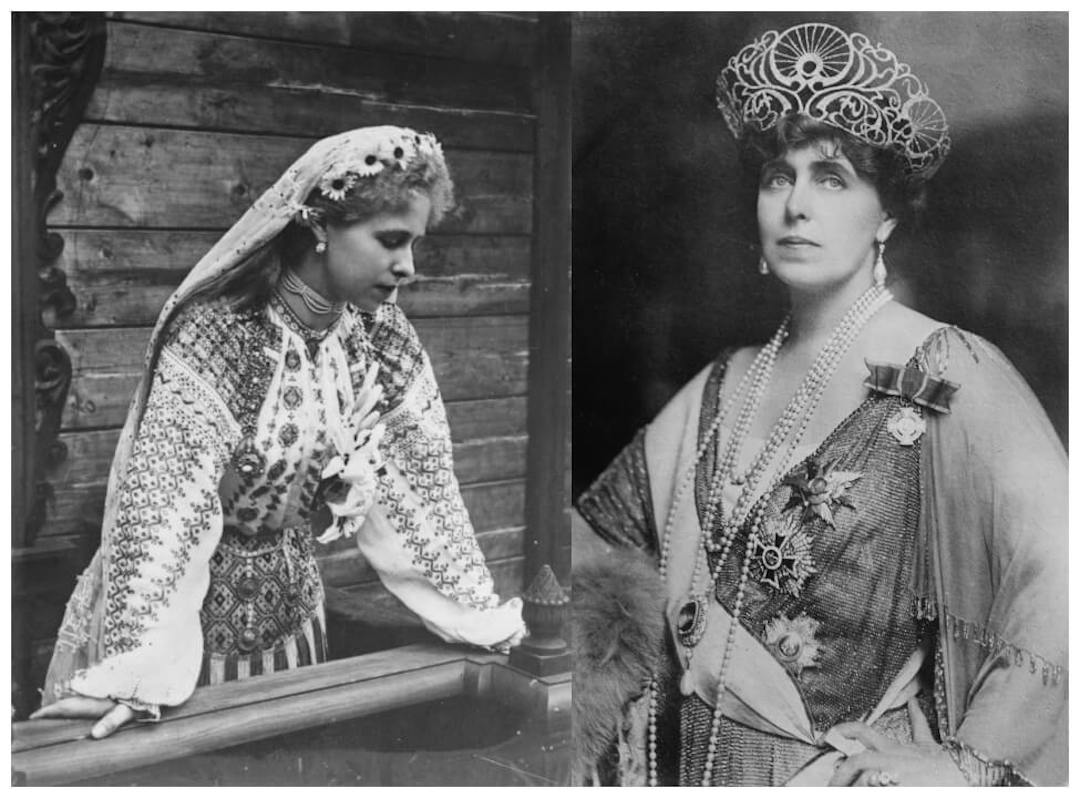 Weighing 478 carats and considered one of the prettiest and greatest royal sapphires ever, Queen Marie of Romania's Sapphire pendant actually belonged to two twentieth-century queens.
King Ferdinand of Romania purchased the necklace from Cartier in 1921 on an installment plan (even kings need installment plans). Ferdinand was married to the striking Queen Marie, the granddaughter of both England's Queen Victoria and the Romanov, Grand Duchess Maria Alexandrovna of Russia.
Marie was in Romania but had stored several cases of jewels with her relative, the Czar of Russia, for safekeeping during World War 1. It's said Romanians sent trains full of precious jewels to Russia during 1916-1917, thinking they would be safer there. Then, came the Russian Revolution and the Bolsheviks, and Lenin confiscated the jewels. The Romanians lost them all.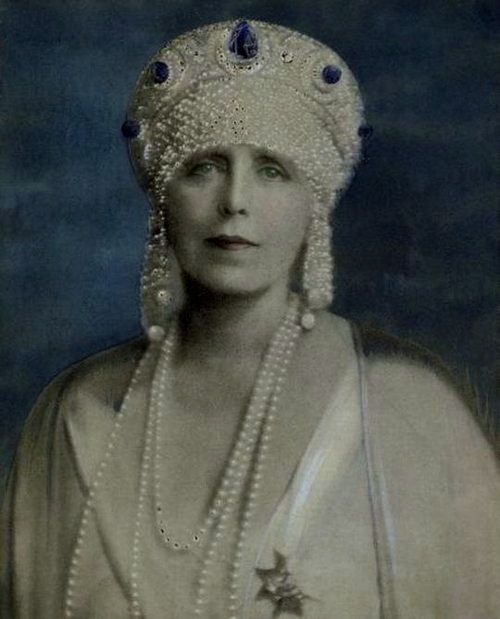 Their Cartier purchase of this great Blue Sapphire was towards replenishing the Romanian royal jewels.   
 
Ferdinand's succession to the Romanian throne was delayed by World War I, and he and Marie were finally crowned in 1922.  During the coronation, Marie wore a diamond sautoir with the enormous Blue Sapphire pendant.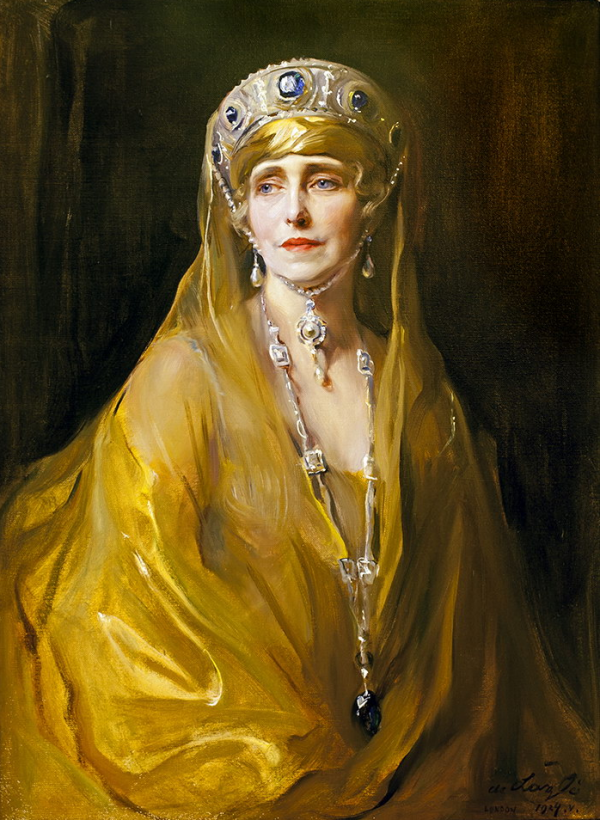 Two years later, she sat for a portrait (above, photo from Wikipedia Commons) with artist Philip de Laszlo wearing the extraordinary necklace along with a diamond and sapphire crown she had purchased from one of her Romanov relatives. Give a close look to that sapphire at the bottom of the sautoir in the portrait!
With the death of King Ferdinand and political upheavals, around 1947 the sapphire pendant was sold – to Harry Winston. It was purchased by a wealthy Greek man who then presented it to the Greek Queen Friederike.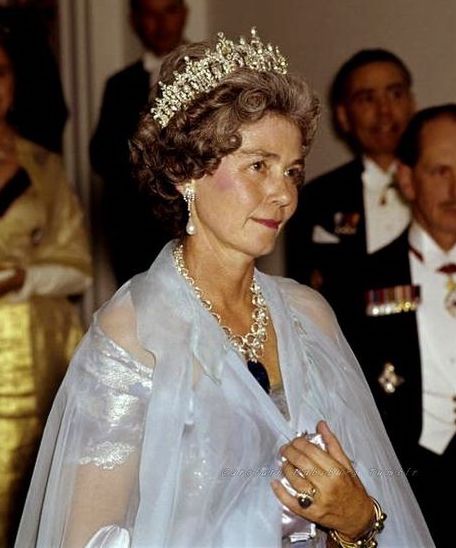 Queen Friederike wore the sapphire on a trip to New York and the wedding of her son, King Constantine II in the 1960's (above photo of the Queen in the Blue Sapphire pendant found on Pinterest).
From then, its whereabouts aren't clear. The Greek royals went into exile in the 1970s when the monarchy was abolished.
The sapphire popped into public view again in 2003 at a Christie's auction in Geneva, the catalog noting it was offered for sale by "a noble family." Those nobles could be the Greek line or could another noble family have purchased it from the Greeks and then sold it? It's not known.
However, at that 2003 auction, the Queen Marie and Queen Friederike's Blue Sapphire pendant was the largest sapphire ever offered at auction and sold for $1.4 million.
Today, the sapphire is owned privately, though was seen on display as part of the Cartier: Style and History exhibition in Paris.
How can I help?  Email Cynthia to schedule time to talk, or describe your situation. Or,
Schedule a complimentary clarity call on my calendar.
Gain fresh perspectives on Jewels, Creativity and the Sparkling Life.