Some of you may know the magnificent gem Spinel joined Peridot and Sardonyx as August's birthstones this summer.
Do you know Spinel?  It's about my favorite gem – at least in the top few.
It's only been recently that Spinel has started gaining name recognition amongst those not in the gem trade.  To us gem dealers, it was always a favorite – it was so hard to find and so screaming beautiful.  But, its relatively low price didn't reflect the gem's rarity and beauty.
Before the turn of the century (yes, I mean 2000), Burma was the only locality for fine, "battery-powered" Red Spinel – and they were few and far between.  Then, in the early 2000's, a larger Spinel find was struck in Tanzania with more fine spinel seen on the market.  Suddenly, there was enough Spinel to create a demand among consumers and prices began to rise.  Now, you can find Spinel in the advertisements of international luxury jewelers in glossy magazines.
Still – a fine Spinel is hard to find.  In Spinel, the colors become more of themselves:  reds are battery-powered, lavenders seem celestial, oranges a fiesta and pinks a mixed bouquet.  Light and color hit the bull's-eye in Spinel – they come together in sharp focus.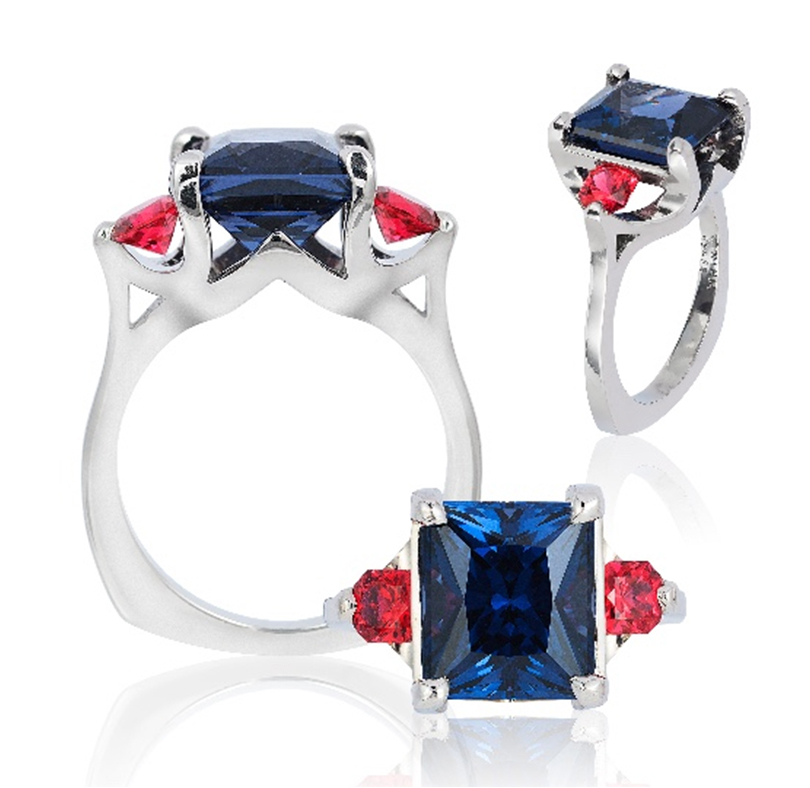 Spinel is a gemstone with a chemical composition similar to ruby and sapphire, though they are not related in any gemological way.   Blue Spinel doesn't look like Blue Sapphire as much as Red Spinel can look like Ruby.  Most of the Spinel blues have a touch of gray, purple or green – but not always!   This fine example of Blue and Red Spinel is currently available in our collection.
The photo below right shows Red Spinels from Burma and the natural crystal shape of Spinel, which looks like two pyramids stuck base to base. This is the same crystal form as diamond and because of this crystal form, light really glistens in this gem.  You can think of ruby as silk – spinel would be satin – light zings through it.
Before the science of gemology developed, Spinel was confused with a lot of other gemstones, especially Ruby.  In fact, the Back Prince's Ruby in the Crown Jewels of Great Britain is really a spinel.  A lot of old historic rubies, turned out to be Spinel.
Besides being highly collectible, spinel is durable enough for engagement rings (let's face it, anything matrimonial requires rigor…).  But with all fine jewelry, removing it before sports, housework or gardening will help it last to be passed through the generations.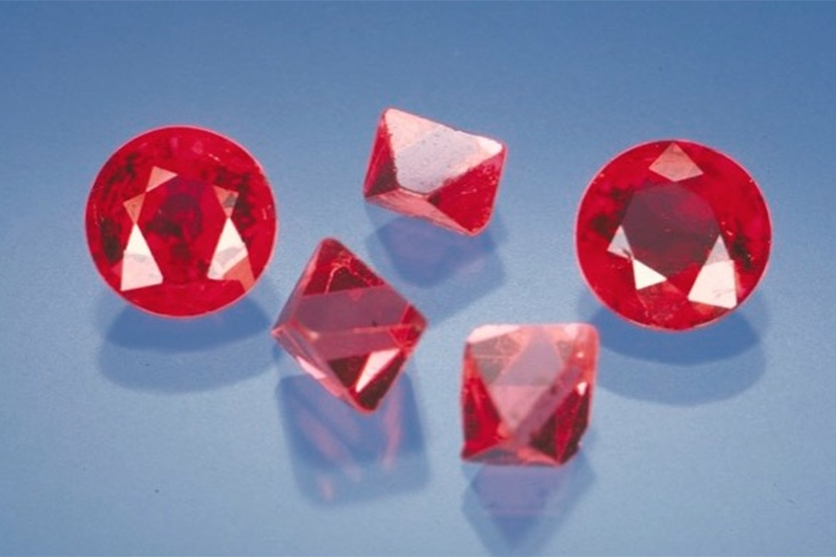 Below is a extra-fine Red Spinel in a palladium and diamond ring we crafted for a collector client.
Another nice thing about Spinel, from a design viewpoint, is that it is possible to get strongly saturated colors in small sizes for use in brilliant jewelry.  Below are some examples of Cynthia Renee jewelry currently available.  
Pink and Purple Spinel can also pack a visual punch.  The necklace was a custom piece we made for a collector where the center Purple Spinel could be detached from the pink necklace and worn separately as a pendant.  The gorgeous Pink and Purple Spinel rings are available by Special Order in our collection.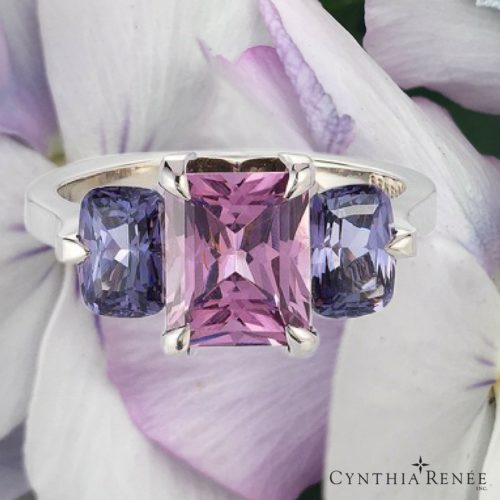 If you're interested in learning more about Spinel, or would like me to help you find a Spinel of your heart's desire – just whistle!   
  

Gain fresh perspectives on Jewels, Creativity and the Sparkling Life.