What to Expect in Creating Your Custom Jewel.
Liana, drawn by my newsletters and a friend's suggestion, reached out. Her profound connection to her late husband and their shared passions set the stage for our creative quest.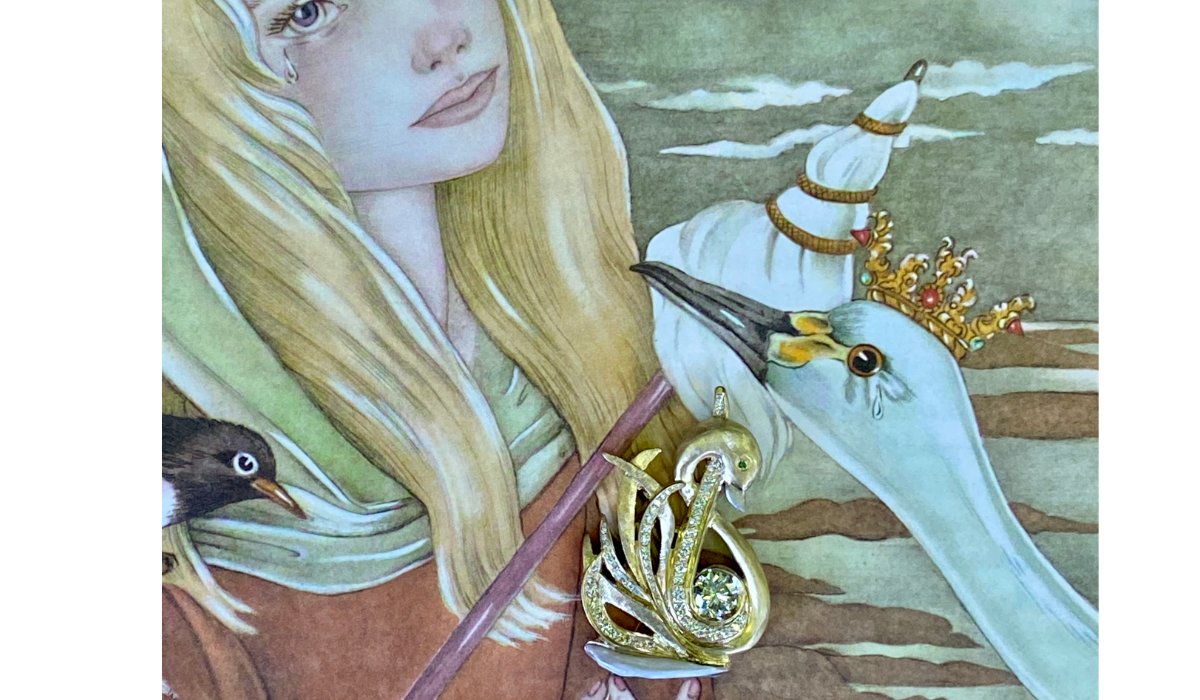 Using Zoom or phone, we learn about each other, ask questions, and see if we're a match.
There is no commitment after this conversation.
First-time custom design client Liana reached out to me after following my newsletters for a few years and being referred by a friend.
We got a feel for each, and I learned of Liana's love for her late husband, Pearle, and her involvement with music, travel, and fabric arts. She also sent me photos of jewelry she loves, which I noted have open space, curves, and detail.
Sketches get the ideas from our heads onto paper. Rarely are they final, but help us hone our concept and scale.
Sometimes I need to pause between our conversation and the sketches to let my impressions from our conversation and design ideas swirl around in my unconscious.
Below are examples of sketches for the project Liana and I began for a brooch featuring a diamond worn by her late husband, named Pearle.
You can see the concepts are moving between a swan, a musical clef, and a ribbon motif. Liana gravitated towards the swan, which we later refined with more sketches.
I came upon the swan idea considering Lian's love of music (Swan Lake ballet), the texture and open space inherent in feathers and that swans mate for life.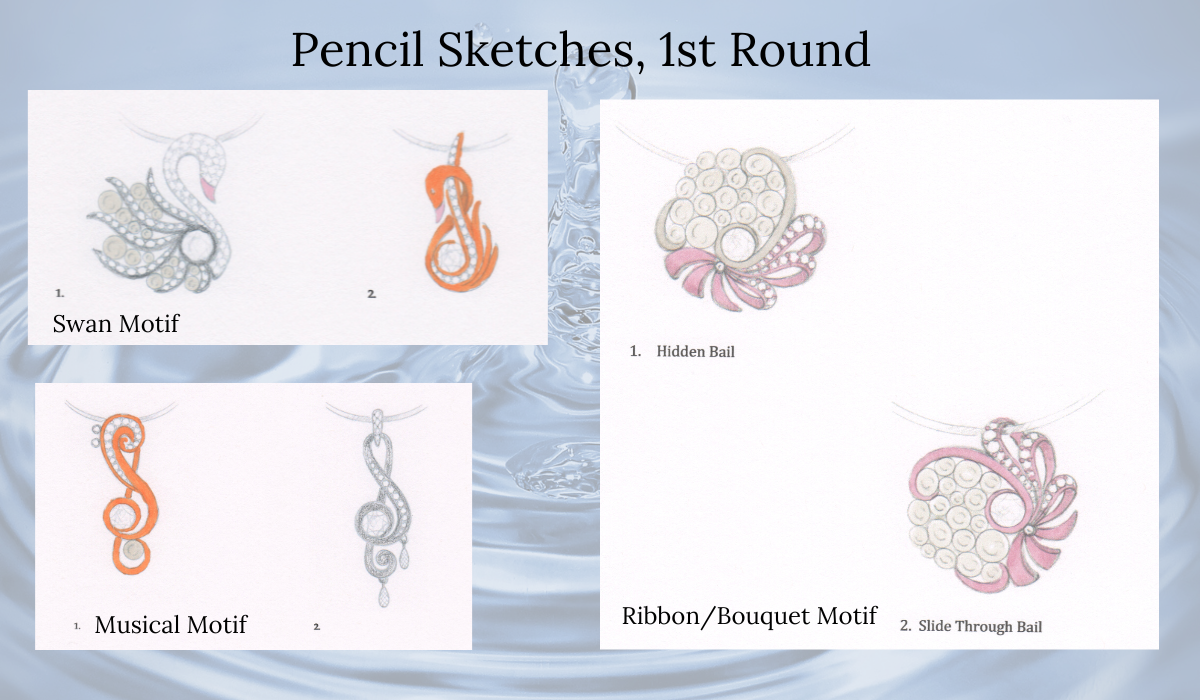 A second round of sketches was made focusing on variations for the swan and Liana's thoughts, as seen below.
During our second discussion, we decided "less is more" favoring the graceful open space between the swan's feathers.
I suggested we replace the wave-shaped base with a wing-shaped pearl, which would also honor her husband, Pearle. Liana liked the idea of Pearl being the foundation.
I sourced a rare wing-shaped pearl from the Mississippi River. This natural pearl is uncultured, meaning the mollusk grew the pearl by chance, not human intervention. A bit romantic too, like a chance meeting of your true love?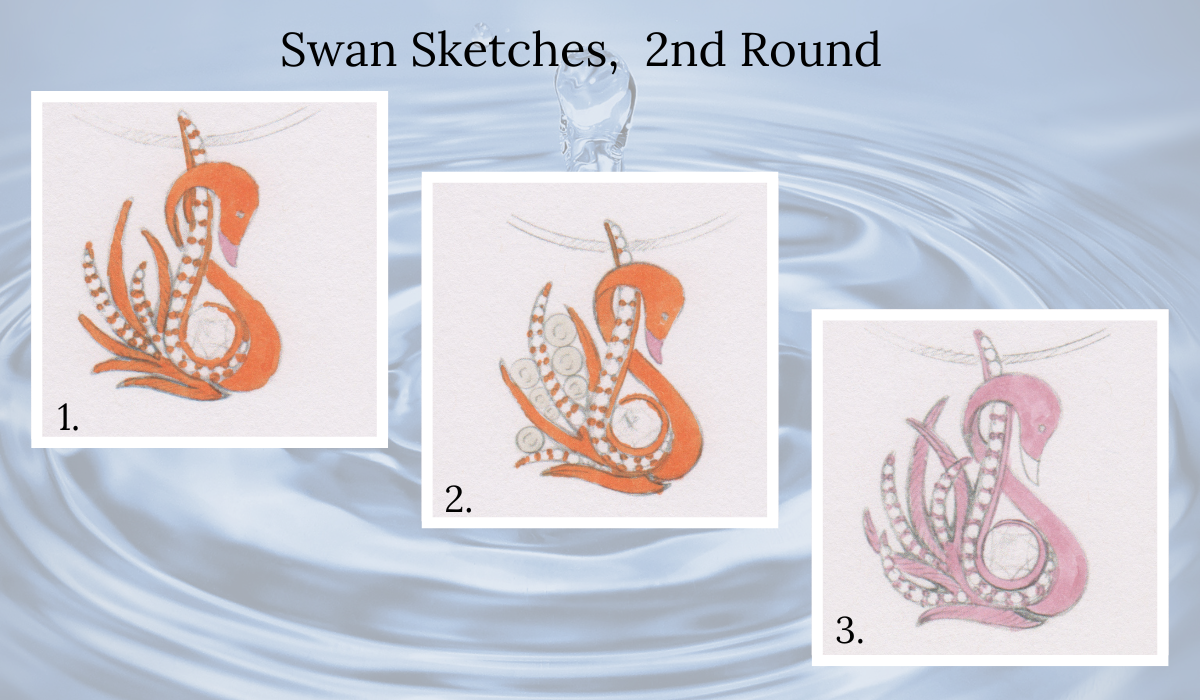 While the model was being created, I removed the diamond from Liana's husband's ring, had it repolished and then certified by the Gemological Institute of America to provide more documentation for this heirloom jewel.
To create a 3-D model, we use wax and CAD techniques and sometimes a combination of both. We wax carved this project because the form and shapes of Liana's swan required the unfolding of grace in the hands of an artist, not the computerized precision of a CAD.
Now is the time to make any changes, before the design is cast in precious metal.
We did consider whether Liana would also want to wear her swan brooch as a pendant and decided against the dual use.
The obvious place to hang the chain was through the vertical feather. Since that feather is not in the center, the pendant would hang off center.
The unrealistic symmetry resulting from centering the feather would make the jewel appear less alive. Additionally, a thicker chain would be needed to suspend the weight of the swan meaning we'd have to bulk up the dainty feathers eliminating the grace.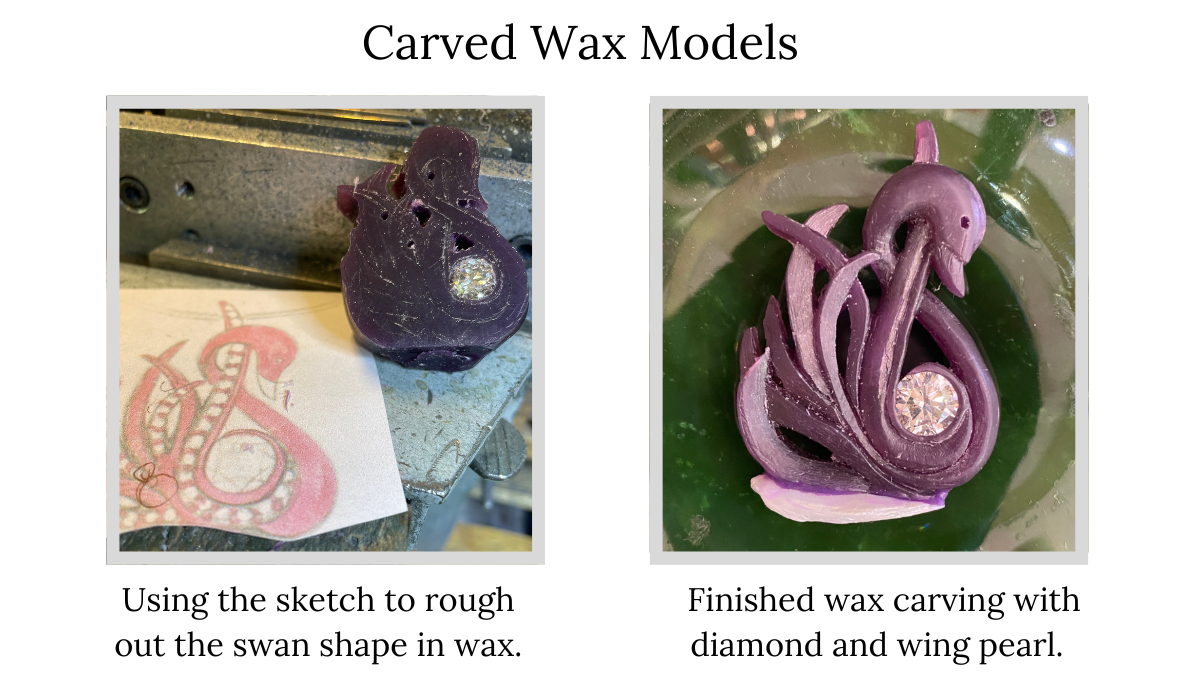 5. Discussions along the way
Some projects require a lot more discussion than others.
As Liana's swan progressed, we texted her updates and questions along with photos and short videos.
Throughout all projects, I'm always considering how to make the jewel even better, sometimes changing techniques, engineering, and placements to create a jewel more full of life and grace. If any changes are made, they are not a surprise to the client.
Moving ahead, the swan is now cast in yellow gold and cleaned, as shown below.
Next will be polishing, adding textures, setting diamonds, hand-fabricating the platinum beak, setting the Tsavorite garnet eye and the wing pearl, and crafting the bayonet mechanism for the brooch.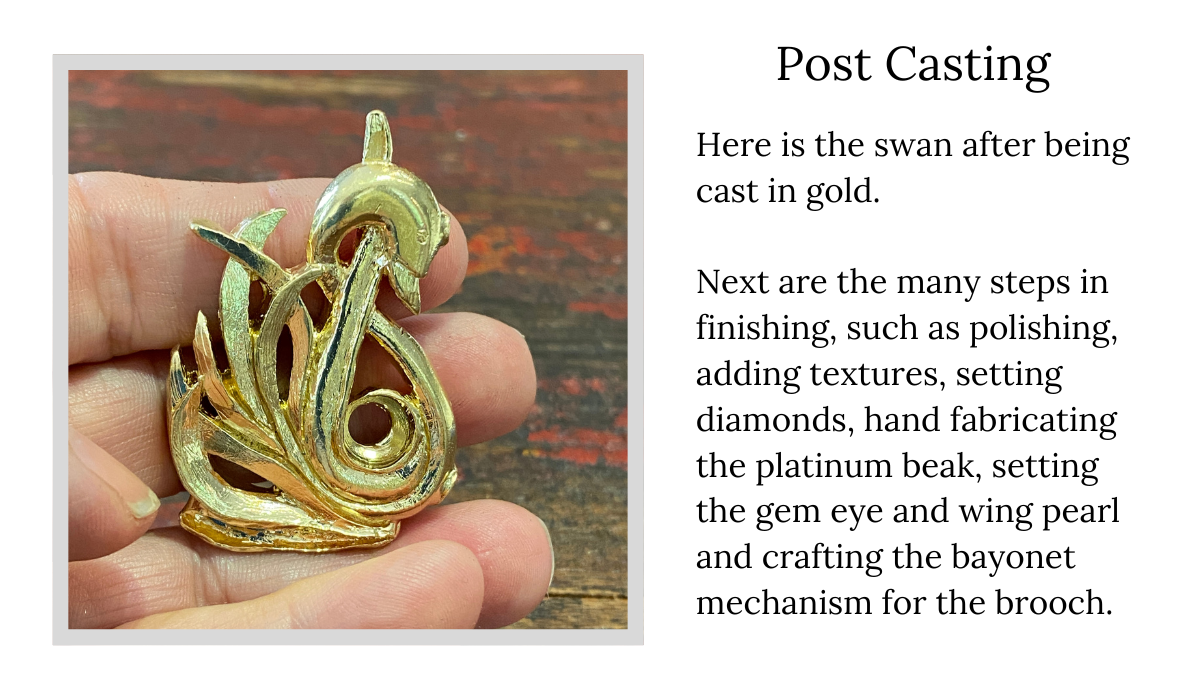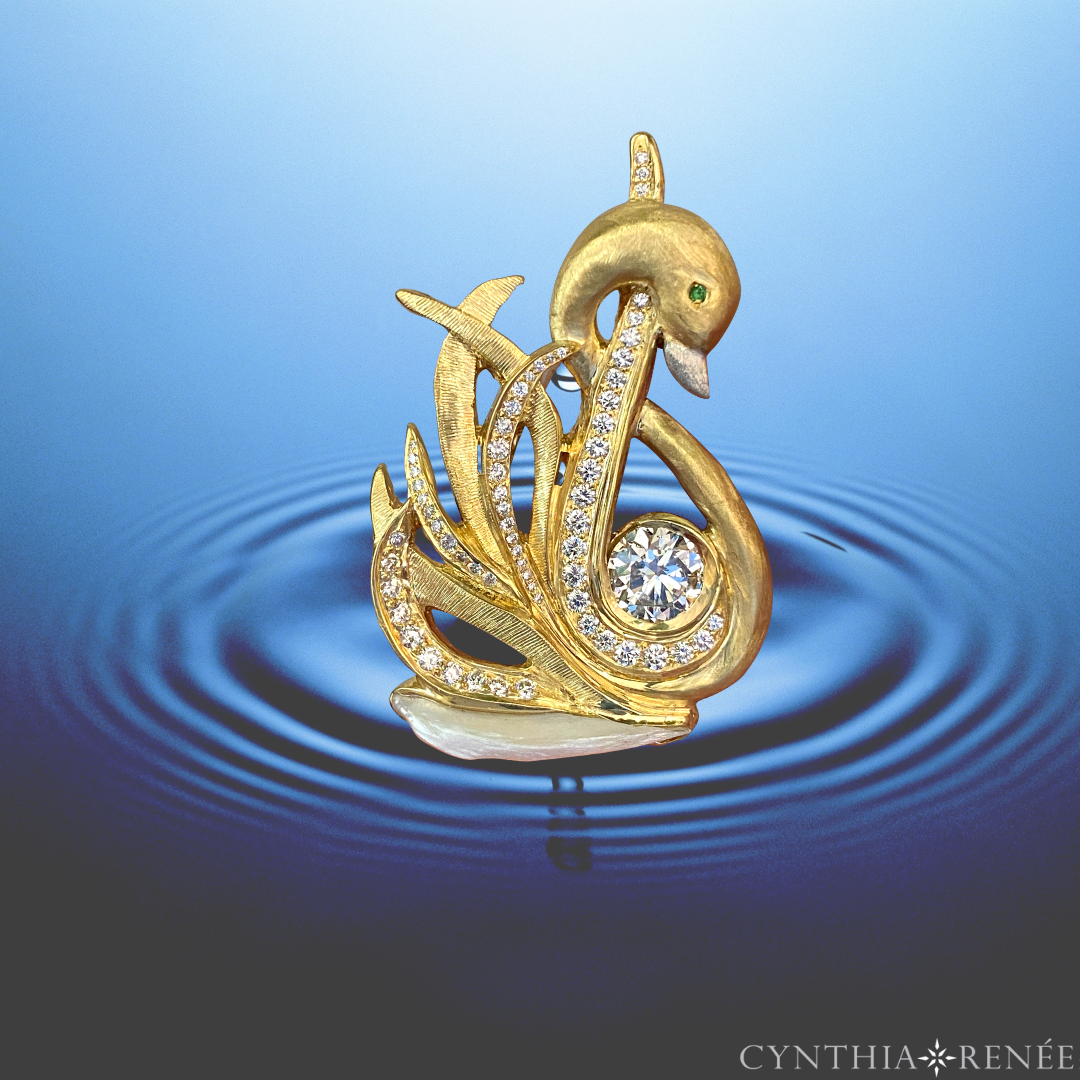 "Liana's Swan" ~ Cynthia Renee Full Custom Design in 18 karat yellow gold with platinum beak featuring Pearle's 2.02-carat round diamond accented by 64 round brilliant diamonds weighing a total of 1.00 carats (0.28 carats were repurposed from Pearle's ring); the swan, with its tsavorite garnet eye, glides on a natural wing pearl from the Tennessee River.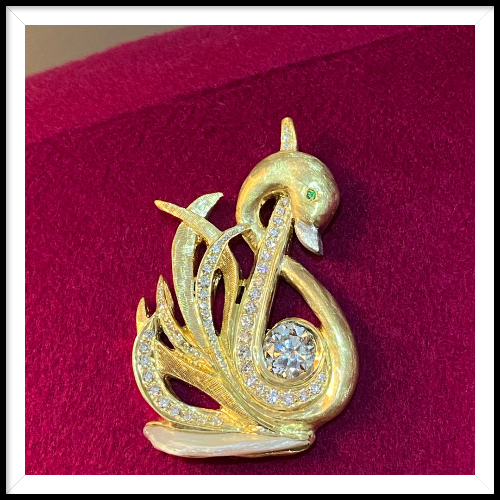 "

I was hesitant about the custom design process until I worked with Cynthia over Zoom and realized how easy she was going to make it.  
She took all of my ideas and concerns very seriously, and we tweaked the design until we got it where we both agreed it was perfect.
I love my Swan.  He is a constant reminder of my late husband and our love.
I wear it often and enjoy it very much, including the many compliments I receive on it.
It's truly one-of-a-kind, and is just what I wanted, even before I knew just what I wanted.
Thank you, Cynthia, for making my dream come true."
Liana S.
It starts with a Conversation!