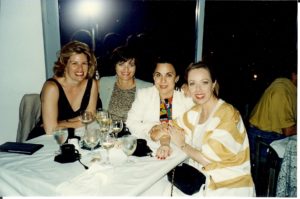 In 1990, soon after I started Cynthia Renée Company, I met some friends to celebrate an engagement. I wore a small, yellow gold brooch of Marie Antoinette hand-painted on ivory accented by natural pearls. I was in the office of an antique jewelry dealer friend when I told him I was starting my own business. "Here – take this; it will remind you not to lose your head," he said, handing me the brooch. It was the first piece of jewelry I'd been given as an adult; I'd even bought my own wedding rings
Years later, I lost the brooch, and the friendship, and just ached. I learned a jewelry secret, too: Snip a small piece of rubber band. Insert the brooch's bayonet through your fabric, then stick the rubber band piece on the bayonet and finish clasping. Even if the clasp lets loose, the bayonet will still hold by the friction of the rubber band.
Gain fresh perspectives on Jewels, Creativity and the Sparkling Life.