You can buy a finished pie at the bakery, just buy a pie crust or make your own.  Some even create their own recipes.
We made our own recipe for creating a jewel starting with finding an elusive amethyst crystal from a fabled locality, faceting the gem, creating a design and "painting with gems" to underscore the amethyst's beauty.
Jackson's Crossroads, Georgia, is a revered source for super Amethyst, primarily as mineral specimens. At its best, flashes of red leap across the slightly bluish-purple gem as it is turned in the light. Beautiful and coveted, it is also very hard to find.
Scoring some Jackson's rough, I asked an adventurous client, Mary, whether she'd like first dibs on the resulting gem. Cutting gems from rough isn't an easy matter, and very often a surprise, mostly a negative one.    Mary and I had worked creating fine jewelry starting with rough gems before, and in she jumped.
 
An astute collector, Mary put the finished gem aside saving it until she dreamt up an image for what she wanted to craft from it.
Painterly hues bleeding one into another.
What Mary was dreaming of was a jewel with "dreamy" watercolor blending of one hue into another. Imagine a watercolor painting where the hues bleed, gradually blending one color to another, moving in shades and tints from light to dark as the paper takes the watercolor. Like the suffragettes, Mary wanted the colors purple and green. The green, in this case, being tsavorite garnet, which wasn't discovered until the late 1960s.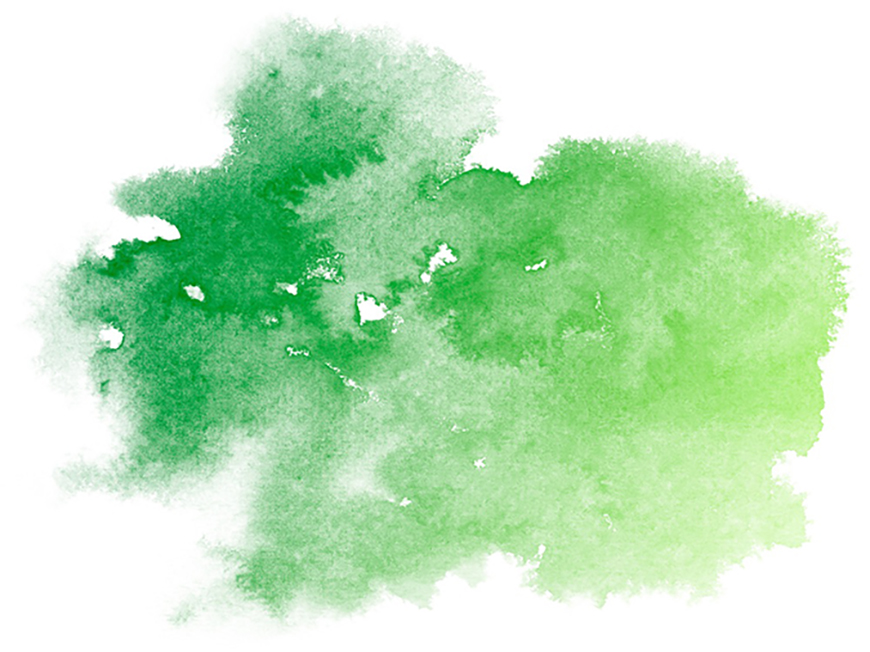 A canvas large enough to paint on. 
To achieve the painterly color transitions, the ring design would need an expansive surface on which to set the tiny tsavorites. Without the surface space, there would not be room to see the color changes.We decided to feature the Jackson's Crossroad's Amethyst for this project because we could cover its depth with a surface upon which to paint. You can see in the evolution of the ring design (below) how the surface for setting the tsavorites was expanded over the time we spent on design and pre-engineering.  We eventually simplified the sketch, while expanding the surface for more room to paint on.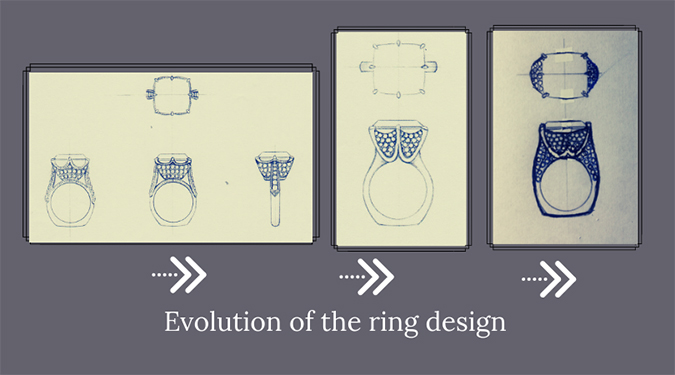 Green is a fickle hue.
Green is a tricky hue being a mixture of blue and yellow, and those mixtures have so many variations. We put together a palette of eight hues of 1.2 mm tsavorites, which we narrowed down to a palette of four.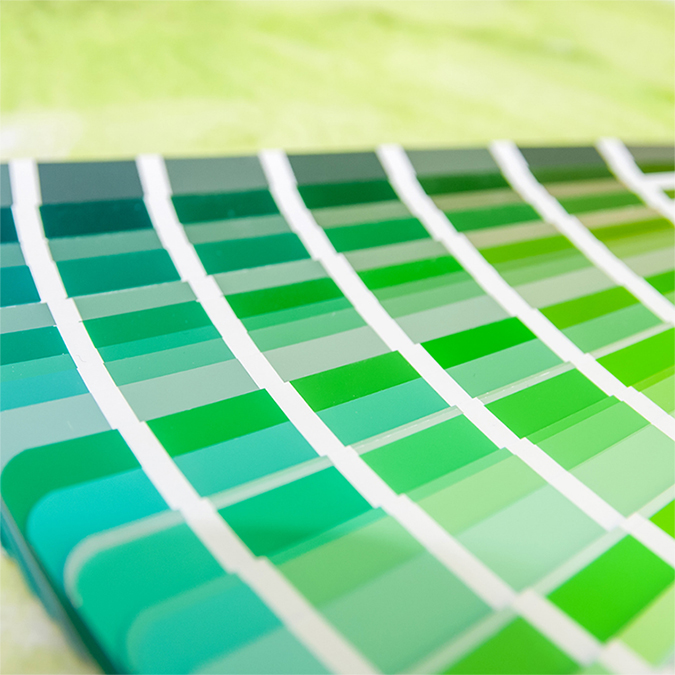 Using fewer shades would give us a better contrast between the hues for the watercolor-like bleed. If the colors were very similar to each other, we wouldn't get the contrast we desired.  If the colors were too different, the contrast would not be subtle.  The hues had to be "just right."
My team made two waxes:  one hand carved and another with CAD, upon which we pre-planned the tsavorite layout for setting purposes. I felt unusually anxious planning and implementing the tsavorite watercolor layout; I wanted to get it just as Mary had imagined while also being restrained by the space we had to paint on. We ended up considering the ring a literal canvas.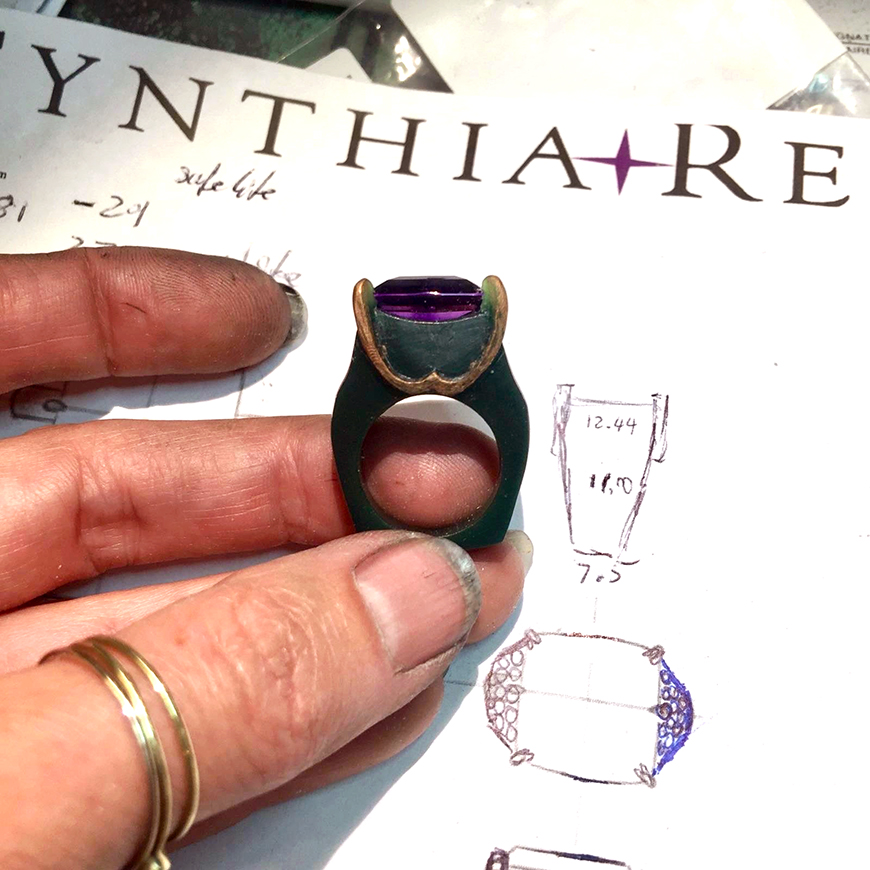 Old World Craft and High-Tech Communication.
Mary, the setter, Mirjam, and I communicated via video. We played with color patterns, first starting with green sharpies to color in various hues on the cast ring. From there, we temporarily set the stones in sections to get further insight, below.
What would the first Suffragettes think of how our culture has changed?  
Among many feelings, I suspect they would be elated seeing how this modern ring was imagined and purchased by a woman, for herself, and created by women running businesses in charge of their own destinies.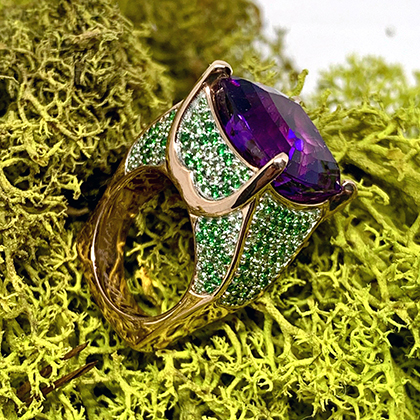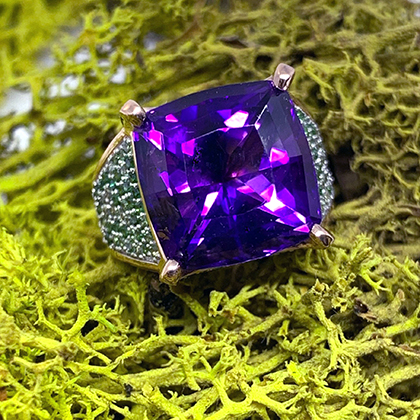 Voila!
The Painter's Dream
Amethyst from Jackson's Crossroads, Georgia, USA, 12.57 carats with 170 pieces of 1.2 mm Tsavorite,
set in 14 karat rose gold.  
Gain fresh perspectives on Jewels, Creativity and the Sparkling Life.